happy birthday to my wonderful father-in-law: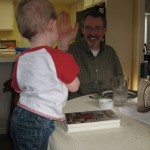 this man truly delights in life. especially in his family. he celebrates with every lesson learned, every victory, every accomplishment that each of his children, children-in-law and grandchildren experience. he is easy-going, fun-loving and (secretly) a kid at heart.
additionally, today is also the 18th birthday of my niece, Elizabeth (Liz).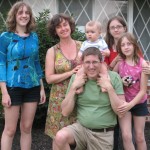 (she's on the left in blue).
she is now a high school graduate. she considers herself a geek. she loves music and i got to watch a clip of her doing some ballroom dancing this week (i LOVE facebook) that she had to do for school. later this summer she'll move across the country from her family (from NY to CA) to begin her college career.
so today i will mail liz's birthday card and gift (which will arrive late – as usual) and tonight we will celebrate dad's birthday with dinner and dessert at dad & mom's house.
happy birthday to two wonderful people!