davey has been having a lot of fun playing with "bob-ooze!" lately (that's what it sounds like when he says "bubbles"). auntie rachel & uncle sterling bough him this bubble machine for his birthday last year. it's now a "regular" with all the other plastic toys in our back yard (seriously – our yard now looks like a plastic toy factory). there's just so much fun & excitement to be had when playing with bubbles….
like getting "smacked" in the face with them: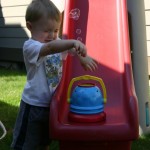 or reaching for them: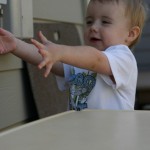 or chasing them: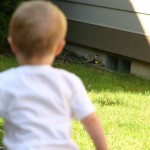 or just watching them float away: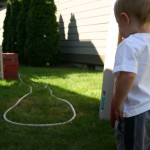 or making more: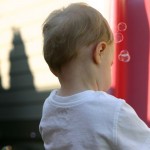 and more: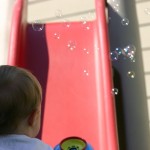 and yes, even more: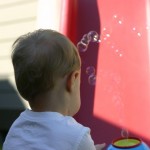 this little girl isn't so little anymore. davey and i had appointments to see the doctor so sam came along for a quick (and free!) weight check…..
19 pounds, 6.5 ounces. at the ripe old age of 7 months & 11 days. she sits up unassisted. she rolls around (and around and around and around). she drinks 5-8 ounces at a time. she will no longer nurse. at all. she's still eating baby food like a mad fiend – veggies, breakfast and now some fruits, too. she's had real banana. real rice. and, of course, cheerios & puffs. she now loves bath time. her smile still lights up a room. she's putting EVERYTHING into her mouth (she even tries to eat my knees!) but still has zero teeth (and i can't feel teeth-bumps, either).
i chose the above photo, however, to show you that her hair is growing in. very, very thick. just like mama and daddy's, apparently. i also wanted you to see her DARLING sundress! it was a gift from my "secret chick" (or secret risen jesus – whichever title you prefer) at the store around easter time. kimee, you chose wisely… i LOVE this dress. and sam looks oh-so-darling in it. AND it's been the perfect attire for my little hot-box in this weather!