saturday started out with playtime in the bonus room with daddy while mama slept in. then it was time to play outside… 'cuz it was such nice weather.
did you know i finally found kids' size camping chairs with arms?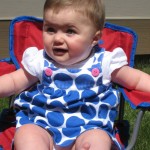 and did you know that davey wanted NOTHING to do with sitting in his chair until sam sat in it? and did you know that my sweet girl likes to make this face and do this "stretch" quite often? i'm so glad i finally caught it on camera!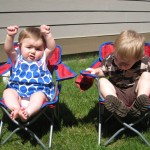 did you know that it was so very hot and sunny on saturday that we pulled out the "sunscreen tent?"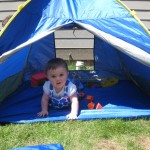 and did you know that samantha really wanted to crawl OUT of the tent? she really wanted to eat the grass. i'm sure she was somewhat successful with a blade or two when we weren't paying attention!
and did you know that she can "assume the position" for crawling but she just can't "make it work" yet? in time. dave says she'll be crawling around in the next two weeks. does that sound about right to you?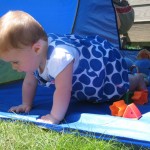 and after naptime, the weather was STILL gorgeous. so we thought it would be a good idea to go and enjoy the park….
did you know that it's a fun activity for a father and son to fly a kite?
(that second photo is my new favorite photo)
and did you know when the son is "all done" flying the kite, the daddy still likes to fly a kite…. the hard way: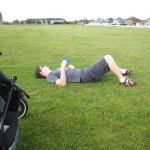 yeah. it's hard work to fly a kite! :)
and did you know this cute boy sat patiently while daddy "worked hard" to fly his kite. he was waiting for us to go to the playground (specifically the swings)…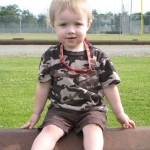 and did you know that when you are less than a month from turning 2 years old that you are big enough to ride the "big kid" swings?!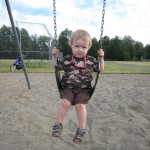 and you can finally sit on the teeter-toter all by yourself: