yesterday we found a little "pirate" kit at The Dollar Tree: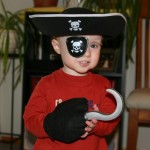 i taught him to say "arrrrr" when he wears this outfit… so that's what he says when he sees this photo! isn't he a cute little pirate?!
and davey wanted some of my "beer" (smirnoff) last night. so i obliged. oops! guess i shouldn't have let him have SWEET tasting alcohol! but then he wanted some of dave's beer… we thought "perfect! he'll learn that alcohol tastes gross:"
the only problem with that theory is davey said "mmm" and then said "more?" what have we started?
and then, b/c he and daddy were sitting on the kitchen floor and there were some random toothpicks (that had fallen out of the cabinet) lying around, davey picked up a toothpick and stuck it in his mouth like this: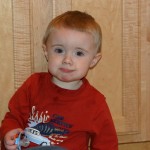 and then daddy decided to do it too: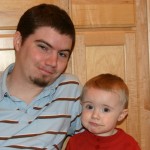 it was a fun night. davey has been VERY playful lately and we've been having a LOT of fun (along with a few tantrums). there's a lot of laughter in this house!
and because you need to see how cute sweet baby girl Samantha is, here's a recent shot of her: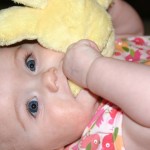 here's an equation for today:
1 mini van + 2 girlfriends + 2 toddlers + 2 infants + 1 outlet mall + 1 doctor's office = my day today! for the first time since the births of jorja & samantha, carrilee and i are trying an outing with ALL FOUR KIDS! i have to go to mount vernon to have my stent removed (from my eye) and instead of simply watching davey at her house, she suggested we try an adventure. so here's to some FUN, CRAZINESS and MADNESS!!!