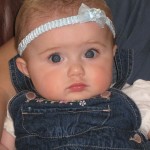 samantha saw the doctor this morning (6-month well-baby check)… and the verdict is:
weight: 18 lbs 2.5 oz (89th or 91st percentile)
height: 27.25 inches (89th or 91st percentile)
head circumference: 44 cm
(for comparison, davey weighed 18 lb 4 oz and was 27 inches long when he was 10 months old)!
my little girl is growing, growing, growing!
hopefully she'll remain her sweet, lovable self today for grandma. i'm heading to the store for a day of teaching and potentially organizing (got anything in mind, carly and elizabeth?) and maybe some errand-running!