so with the few minutes i have before we head out to the spit tonight to celebrate reid's birthday, here are some photos from our adventure there LAST sunday evening (thanks so much for the invite, trisha!)…
some of the gang and the boys doing some race-thing running in circles and jumping from log to log:
dave did eat it at one point. still has some scabs on his leg. i love when these boys get together, though… they really do let loose and have fun. b/c, after all, boys will be boys!
this is sweet maria (mama to a 12-week old girl whom i haven't met yet). maria was awesome. somehow, i ate 4 s'mores throughout the evening and i never picked up a roasting stick… she kept walking around serving food to people. she was in her glory (her sweet baby girl was at home with grandma).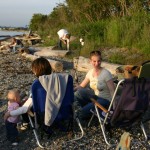 our weekend visitors from montana, leif, elliana and elizabeth wickland… it's the only photo i have of the 3 of them together!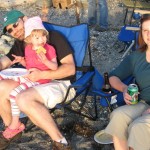 i am SOOOOO THANKFUL you guys made the LOOOOONG drive out here to see us! it had been THREE years since we last saw them (E was pregnant with "Phoebe" – Eliana's "inside" name – at the time)! it was so wonderful to catch up with them again (though i'm very thankful for our blogs which have helped us stay more up-to-date through the years), to take them to some of our favorite places (b/c we had GORGEOUS weather while they were here!) AND to scrapbook with E while the boys did their "computer geek" talk! and they "accidentally" left a stroller behind, so we might get to see them again in August (that's what you're thinking, right E?)! Twice in one summer would be a new record, i think. i miss you guys already! (for the first day or two after they left, davey would look around and say "ellie? ellie's car?" it was so cute. he's such a sweetheart and he LOVES other kids!)
here's ellie enjoying a s'mores and a much better photo of her darling mama (love you, E!):
here are Jorja and Jaden:
Joshua (notice the rock he threw was captured in the photo?) and Henry, Davey & Jaden:
Jaden sharing his binkie with his dad (Justin) and mom (Brandi) enjoying the show: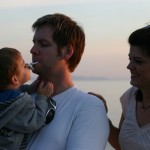 my Dave throwing rocks at a log in the water (which he did hit, by the way!)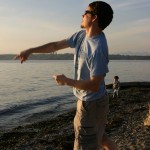 some of my favorite photos of Davey from the evening (i took TONS more):
and some of my favorites of Samantha from the evening (again, i have quite a few more):
that's Emma (Jaden's older sister) holding Sam. Emma LOVES babies. she was a great helper (as was her mama – thanks, Brandi, for loving on Sam)!
over the years, our adventures at the Spit have changed a bit. a chair per person and a cooler with beverages and some food. then we added a few kids and there were diaper bags, car seats, blankets and more. now with kids that can walk and run and play, there are toys, more chairs (for the kids), larger diaper bags, potty runs (for those with potty trained kids), LOTS more dirt and sand everywhere… but still the same friends hanging out, laughing, drinking, eating, roasting marshmallows and having a great time. i hope this year finds us all at the Spit much more often. it's relaxing. even though it's a lot more work than it used to be. it's still relaxing.
so a giant, public THANK YOU to brant & trisha for thinking of an evening at The Spit and for making it happen!