so i (we) got an early start yesterday. for the past few days, sam has been waking up around 6 to eat (but that means she's sleeping through the night!) and then she's been STAYING AWAKE (probably b/c it's so light out)! so yesterday, the kids and i were all dressed and downstairs and i was making breakfast at 7:19 a.m. (by the way, with me being dressed, that also means i had already had a shower). i kid you not. 7:19.
so we left a little early for the garage sale to try to snag that little tikes coupe car for $10. we got there at 8:30…. the sale wasn't supposed to start until 9…. but it was already gone. my heart sank. sigh. i did, however, pick up a little tikes plastic picnic table for the kids for FIVE DOLLARS ($5)! so at least it wasn't a wasted trip.
but i was bummed. seriously bummed. so we drove back to lynden and i vowed to drive around looking for other garage sales to find some other good deals to make me feel better. the first sale i found was a MOVING ALL THINGS MUST GO sale. no prices on anything. boxes of crap spread across the front lawn. and there, in it's red & yellow glory, on the corner (to draw in more customers?) was the car. the little tikes coupe car. so i asked. and IT WAS FOR SALE. i offered them $10 (same price as the one in ferndale that i missed out on) and they ACCEPTED! WOO HOO! i also snagged a wooden toy box for sam's room for $5 (and my sweet friend, sara, has agreed to paint it for me… she LOVES to use spray paint – and i HATE it)! and for all THREE items, i only spent $20… not bad for early friday morning!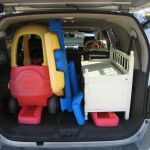 when davey took his nap, i picked up where i left off yesterday (doing more freezer batch cooking) and with one more entree to go (i'll probably make it tomorrow), i have a well-stocked freezer again. here's what i made this time around:
- 1/2 batch chicken parmigana
- whole batch of chicken cordon bleu (we tasted that thursday night – mmmmmmm!)
- 1/2 batch dave's swamp blues bbq chicken (from the book, not my dave's recipe)
- 1/2 batch tequila lime chicken
- 1/2 batch chicken curry
- 1/2 batch mustard oregano pork chops
- 1/2 batch 4Bs pork chops
- 1/2 batch shangai stir fry (with beef/steak)
so that's 27 meals for us. yep. 27. (and the teriyaki chicken will add another 3-6 meals to that)! crazy, i know. but i'm telling you… it's WORTH it. i do still have to do some meal planning (adding veggies and starch and stuff to each meal) but it's so nice to have a variety of foods in the freezer at a moment's notice. i can't thank shelly enough for introducing me to the book (fix freeze feast)… it's been such a huge help around this house!
and davey woke up just as i was finishing up with the shanghai stir fry. so i finished cleaning up and we headed outside where i PROMPTLY scrubbed down (and dried off) his new coupe car AND the picnic table. the table has a few issues when you try to move it (thankfully i have two great men around to "rig it" for us) but it was only $5…. so it was still a steal! and while sam napped and i soaked in the sunshine, davey ran from his car to the picnic table and back again. over and over and over and over. $15 well spent!
sam did eventually join us on the deck… she bounced in the exersaucer and we all enjoyed the GORGEOUS weather (sunny and 70s)! we were even lucky enough to have dad & mom (aka: grandpa & grandma) join us for a dinner of bbq chicken pizza (homemade pizza dough – but it's SUPER easy! you just throw the ingredients into the bread machine and it does 95% of the work)!
now THAT's a great way to spend a sunny friday!