so last thursday i had quite an adventure. i had a follow-up appointment from my eye surgery. the appointment was in mount vernon, about 45 minutes from home. and i wanted to stop at the outlets before my appointment. carrilee had agreed to watch davey for me so i only had to "haul" sam with me. but then she suggested we try our first outing with all four kids. yep. all. four. henry (age 3), dave (age 21 months), jorja (age 9 months) and samantha (age 6 months).
we loaded up the kids into carrilee's van:
and headed south. i was able to return some items at carters and buy some things the kids needed (sandals for davey and pjs for sam) and we still got to the appointment on time. with two sleeping kids (the girls).
carrilee sat in the van with the kids while i went in for my appointment. unfortunately, they scheduled me too soon so the stent couldn't come out. and now, the doctor wants it to stay in until early JULY. seriously. two more months. oh well. i can handle it. i can't feel it. and most people don't notice it. but i had hoped it would come out. sigh.
after the visit to the eye doctor's office, we headed to mc donalds (with a big play place) so the boys could run around before the drive home. the girls sat in highchairs (sam's first time sitting in a restaurant high chair!) while the boys ran, crawled and climbed around.
(don't ya love that rattle in sam's mouth?)
here's davey INSIDE the play place structure: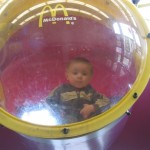 and on the way home, davey conked out: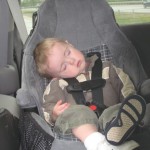 sam slept for a little while and then did something she hasn't done in MONTHS… cried ALL. THE. WAY. HOME from bellingham. ALL THE WAY. cried so hard she got jorja going. and just outside of the lynden city limits, henry added his voice to the melee. it was crazy. clee and i looked at each other and all we could do was laugh. LAUGH. and she drove a little faster. yep. faster. and davey slept through it all.
it was good to get home and get both of the kids into their beds/cribs and enjoy their overlapping naptime. i'm glad we tried the adventure. it was a successful outing. and i would do it again. but maybe not tomorrow! :)
thanks, carrilee, for the fun times!