thursday – yesterday was a GREAT day. we had a FUN play date at OUR house in the morning with carrilee, henry and jorja dyck. both jorja and samantha took naps. the boys played well together. and i helped carrilee whip out 20 thank you cards for the Grace Place staff. we even pulled together a lunch from my random ingredients!
after they left and i cleaned up the house and got both kids napping, i took some time for myself. my creativity was flowing thanks to the cards i'd made earlier, so i played around with some paint, canvas, vinyl and ribbon. i apologize for the photos…..
the canvas in davey's room and sam's room are size 12×12. the "family" one is 6×12. i love how they turned out and how quickly they came together. and how EASY they are to create!
here's what sam's room looks like now: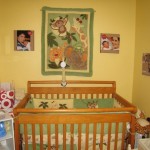 her new vinyl is on the right side of the photo. on the left side of the photo is her "great-grandma" wall. something handmade from grandma dunkin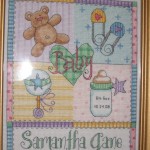 (that took a LOT of hours of hard work. i used to do counted cross stitch a lot. this was a time-consuming project. and i LOVE it)!
and something from gigi's apartment: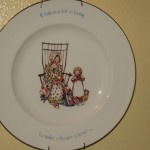 a holly hobby plate that she had hanging above her sink/kitchen area in her studio. i LOVED holly hobby when i was growing up. this plate was the perfect thing for samantha (and i) to inherit.
here's what davey's one wall looks like now: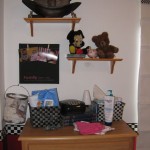 the clear pail on the left is a trash can. i plan to lower it a bit but haven't done it yet.
and finally, my "family" vinyl: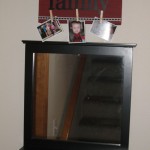 if you've read this far, thanks for following my vinyl journey today! E – i hope i've made you proud (and the vinyl girls, too)! i also got to work on a mini book today. i started it earlier this week…. a mini book about our trip to PA and NY last summer with davey. it's FUN! FUN! FUN! i'm actually contemplating making another (similar) one and TEACHING it at the store! we'll see if i get motivated enough for that!