yesterday was granma/gigi's memorial service in lynden. there were more people at the church than we had expected, which was (obviously) a pleasant surprise. not only was gigi well loved, but so is our extended family. lots of people from our church were there to support mom & dad (and the rest of us, too). so encouraging. gigi will be missed. a lot. by many.
the service was at 1, so both kids were napless by the time we got to the church. they did great through the service and at the reception afterwards. and they both crashed in the car on the short drive home:
after naptime for the kids and cleaning time for this mama, we loaded back into the pathfinder and drove to bellingham for a belated family dinner celebrating mom's birthday. we were all there (well, except for jeff's fiance, taryn – she had to go back to canada for a vehicle inspection)….
after a very tasty dinner at On Rice (thai food), the party (minus jeff, who now lives in bellingham where he bought a condo!) moved back to our house. sam went to bed and the rest of us ate rice krispy treats and laughed at davey's silly antics (he really is quite entertaining these days, especially when he has a large audience!):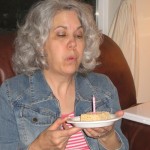 again, mom, i apologize that your birthday dessert, while complete with a candle, was only a rice krispy treat. but have no fears….. we'll get you a cake soon and do this thing right! :)
towards the end of his "running around like crazy" time, dave and i were lying on the floor watching some photos on the tv. davey ran over and joined us. it was such a sweet moment in my mind – our son wanted to do just what we were doing…. so i had dad snap a photo: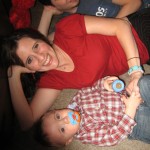 i know that there will come a day when davey will run AWAY from us much faster than he will ever run toward us. so this brief moment in time, captured in a photo, will be a lasting memory and just might help me make it through some of those tougher tween and teenage years!