friday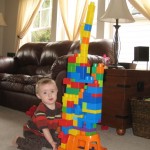 davey and i built this tower on his lego boat (garage sale find!) earlier this week! about 10 seconds after i took this photo, he knocked it over (on purpose). it's his favorite part!
and this little girl (my sweet pork chop) has a new trick: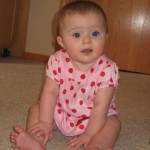 she likes to sit up unassisted. she's not great yet, but she can do it. she's also IN. LOVE. with cheerios and puffs. can't get enough of them. surprisingly, she can even get a few into her mouth on her own, though she definitely needs help with most of them. she also LOVES food. so far she's only had veggies. but we haven't found one she doesn't like. peas. green beans. squash. sweet potatoes. carrots. any of the two combined. she INHALES them. literally… it's like a "slurping" thing she does to get the food from the spoon to her mouth and down her throat!
it's been a good week. there have definitely been pulling-out-my-hair moments, but as i look back, i laughed a lot with my sweet kids. and we enjoyed the sunshine when we had it. and we had fun playing inside on rainy days. today was a sunshine-filled day. and it included some AWESOME news for me. i stopped by the lynden consignment stores to see how much money i had earned (tomorrow is girls' shopping day)… i was hoping for about $50 total. i doubled that. seriously. $105. suh-sweet! AND i have a gift certificate (from dave) to use anywhere to purchase "one ladies coat" of my choice (a spring/fall trench coat) – that's my mothers' day gift.
there should be a LOT of shopping happening tomorrow. i have gift cards. i have cash. and i have a list of "to purchase" items for myself and my kids. i am also looking forward to spending the day with linda (dave's mom), taryn (jeff's fiance) and rachel (dave's sister). we had so much fun last year that we wanted to do it again this year. i'm hoping this will be an annual event!
(shhh… i might even hit a few garage sales BEFORE i pick up mom)!
dave and his dad are gonna stay home with the kids… and hopefully get a few things accomplished around the house, too. so please pray that the kids are WELL BEHAVED for dave and dave.