it's been a crazy week here with lots and lots of dave's extended family visiting from out-of-town. oddly enough, i haven't taken but one photo of family this week. hopefully i'll change that tonight when we have dinner here again.
last night, while waiting for family to arrive for dinner, davey decided to run around the house with a bucket on his head. literally:
here's baby samantha with her cousin john. well, actually dave's cousin. so that makes these two – um… cousins twice removed? is that how it works? i always get that wrong!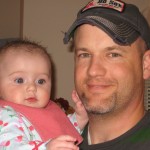 cousin john (who i kept calling "uncle john") left early this morning. we miss you already! and we really wish michelle, mckenzie and mikah had been able to join you!
this morning, davey was wandering around the living room, holding an old camera against his face backwards, saying "cheese!" i tried to capture a photo of him doing it, but this was the best i got: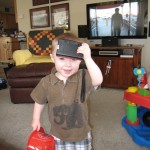 what a kid!
oh yeah – he's really a collector, too. he'll pull all the balls out of his basket of toys and then put them all in one place. usually under the exersaucer…. even when sam's in there! (love her chubby 'lil legs)!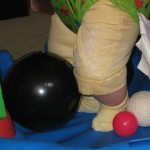 additionally, we've been doing "secret chicks" (or "secret risen Jesuses") this week at the store. julie was AWESOME and delivered two PERFECT gifts for me from my secret chick. chocolate just when i needed it. and a search-a-word book and sudoku with a bag of original chex mix (my favorite). exactly what i needed during this difficult week. tomorrow is the big benefit crop hosted by the store, so i'm hoping to go. it's when i get to find out WHO was my secret chick. and when i get to tell who i had. and it'll be 20+ hours of ME time (which i desperately need right now)… but we'll wait and see how today and tomorrow progress before we know if i can actually attend the event.
right now both kids are napping and i'm going to relax & rest a bit myself.
oh yeah – we/dave finished our taxes last night (nothing like the last minute, eh?) but we found out we're getting a nice little return. whew! savings account… we need to pump you up!