have i told you lately about my dear friend, carrilee? or her sweet girl, jorja?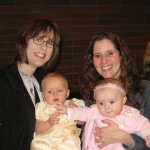 carrilee has been a rock for me. always there. ready (AND WILLING) to help anyone, anytime. thank you, carrilee, for seven years of faithful friendship. i really would be lost without you!
and jorja… she was born last july – so she's 3 months older than samantha. but guess what? my baby girl is as long as jorja. and she's wider. perhaps heavier, too. i am so excited to watch these girls grow together. learn together. play together. i hope they are as good of friends as their mamas!
this photo was taken on easter sunday after church. even though carrilee and i have been GOOD friends for seven years, we have very few photos together. i will treasure this one for a long, long time.