earlier this week (the 20th – what day was that?) i pulled out some stage 1 Gerber green beans given to me by a friend (her son won't eat baby food anymore). sam seemed to like them: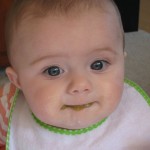 she ate the whole container and seemed to want more! she's had them again this week and still seemed to like them. i know you normally start babies with squash or carrots or sweet potatoes, but for unknown reasons, i wanted to start sam with a green vegetable.
and in her attempt to avoid stereotypes, samantha, apparently, wants to be an electronics geek like her dad and brother: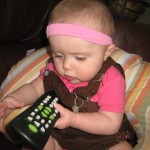 she is FASCINATED by the remote. and my laptop. sigh. i had hoped to have a girl taking after my interests – scrapbooking, shopping, barbies…. you know, girlie things. but i may have a girlie geek on my hands. and that would be okay, too.
on wednesday, dave and i helped his parents clean out granma's apartment. it was a long day and it started with the kids helping us. thanks to the amazing carrilee, who (on the spur of the moment) watched both of my kids AND her two kids at the same time. i LOVE you, sweet friend! but before the kids were shipped off at (okay, delivered to) carrilee's house, sam had a little catnap on the floor of granma's apartment: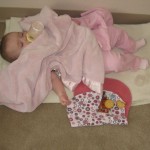 i love you, my sweet baby girl!