MONDAY:
here's just a peek at a few photos….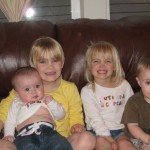 samantha, dori, avari and davey – the children of cousins (dave & roy). i miss these girls (and their parents) already. they began their long drive home to colorado early this morning. we are thankful, however, that we will get to see them again in july when they venture to the great northwest for jeff & taryn's wedding!
here's silly davey with not one, but TWO binkies IN his mouth: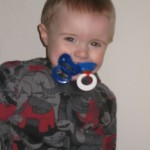 and a better photo of him wandering around the house with an old camera saying "cheese!"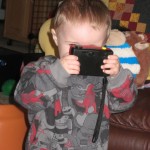 and sweet little samantha with her baby that auntie rachel & uncle sterling gave her for christmas: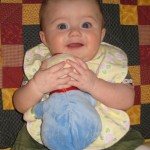 i did get to attend the 20-hour benefit crop (friday night to saturday) and i had SO MUCH FUN! as is the norm for me every year, i took my camera but never pulled it out of my purse! more on my fun at that event later…