today was a long day. we cleaned out granma's (gigi's) studio apartment. dave's parents leave for nevada tomorrow. the graveside service and a memorial will be on monday. then back to lynden for another memorial service on saturday, may 2nd.
b/c i need a laugh today, i found some photos that make me laugh. davey often walks around the house and says "hat" and then puts a hat on his head. lately he's been putting a hat on sam's head (usually when she's standing in the exersaucer). the two most common hats worn in this house? one made by nana: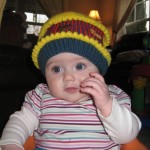 and yet another great find at The Dollar Tree: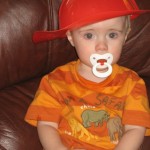 if i can get the kids to nap at the same time tomorrow, i might be able to finally post some of their cute photos from easter (photos that dave took) and a few photos of davey eating m&ms (they don't melt IN your mouth when you drool a lot)!!