from our home to yours, we wish you a very happy easter:
(and i'll blog soon about the fun easter egg hunts davey did this weekend)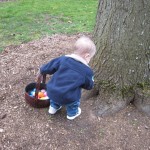 but i do want to take a moment to ask you to pray for our family. gigi (great-granma – my mother-in-law's mom) is not doing well at all. she's been in the hospital for a few days, but is returning home (to her retiree dorm) soon (perhaps tomorrow).