one month ago yesterday this photo was taken: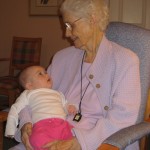 the last photo of sam and her gigi.
around 3:45 p.m. today, gigi breathed her last breath. and now she is in the presence of her Lord and Savior… a place for which she has longed.
it was 13 days ago (thursday before easter) when granma went to the hospital. it was 8 days ago (the monday after easter) when granma returned to her home knowing the end was near. she was able to see and talk with many family and friends. people flew and drove hundreds of miles to see her. she is leaving an amazing legacy of love, patience, kindness, and sensitivity. she will be greatly missed. and by passing on today, april 21st, she has left this legacy in the care of her 2nd daughter – my mother-in-law (in pink):
mom, i hope you know that you already possess many of granma's amazing characteristics and qualities. granma/gigi will be greatly missed, but she lives on in our hearts. and we know where she is today – celebrating with our Lord… and for that, we rejoice.