the weather was GORGEOUS here on sunday, monday and tuesday. in the 70s and sunny and warm. shorts weather. even for the kids. seriously. shorts. in early april. LOVE IT! we took the kids for a walk in the afternoon (after doing a little bit of yard work – just some weeding and pruning/trimming). on our way TO the park, i carried sam in the bjorn (front pack) but i was in P.A.I.N. that girl has gotten HEAVY! very heavy! so while davey played (well, walked around and watched the other kids) and dave held sam, i "rearranged" the stroller (the extra seat can fit in two places) so both kids could sit up for the walk home: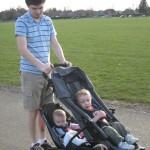 sam tolerated the seat for about half of the walk home. and then dave had to carry her in his arms while i pushed the stroller. there was no way i could carry her again. dave has given samantha a sweet 'lil nickname – "pork chop." yep. it actually suits her pretty well. and it's better than me calling her "little piggie" all day long!
as you know, i got to go to work (at Treasury, the scrapbook store) on Tuesday. i had a great day! i had been able to make a batch of puppy chow (aka: monkey munch or muddy buddies), so along with having full classes, i was able to offer them a tasty, sugary treat (and the TOM girls working that day appreciated it, too)! what made the day absolutely amazing for me was when i was setting up for class and i opened the "classroom closet" door (where we store all our "store use" supplies) and three paper trimmers fell down mere millimeters from my toes. just looking at the closet, i knew, without question, that no one had even PRETENDED to put things away during my 5.5 month absence from the store! it was a disaster. so after class, (with "heck yes" permission from elizabeth & carly) i cleaned out the closet. i was ruthless. i emptied almost EVERY drawer (we have about 60 of 'em) and i threw away trash, dried up stuff and broken things. i got to set aside things we no longer use/sell so they could be clearance priced and sold in the store. i got to make a LIST (i love lists!) of all the labels we need for the drawers. i got to make the closet MAKE SENSE. it is a thing of beauty. I wish i had a before and after photo to share with you, but you'll have to take my word for it. it was a bit overwhelming. it was a HUGE task that should've taken me longer than an afternoon/evening. but it was so worth it. and i LOVED every minute of it (even when i was overwhelmed). i'm hoping it'll stay "pretty" for at least a month or so (when i go back and teach again). i'm hoping the new drawer labels will help with that process. i gave up my "child-free errand running time" to clean the closet. and i think it was worth it!
when i got home on tuesday night, both kids were in bed. they had been GOOD for grandma that day (davey took a 2-hour nap and sam took a 4-hour nap). so that gave me hope that i'll be able to continue to work at the store. mom/grandma was able to handle both kids AND get dinner on the table (i had made a casserole that morning)!
on wednesday, the kids and i ran the errands i didn't get to do on tuesday. before we left the house, i made a batch of rice krispy treats (for the TOM girls) and a batch of golden graham s'mores (for dave & his team/friends). we gassed up at costco, stopped at Treasury to deliver the treats (and i got LOTS of praise and thanks for my closet cleaning project), picked up items at target and then ran by dave's office to deliver his goodies. he was in the middle of a project, so we couldn't stay. the kids were both doing well, so we ran to joanns and then to walmart and then it was time to head home. davey had fallen asleep in the car on our way to bellingham that morning, so he had no interest in a nap until about 4:15 when he fell asleep eating a very, very late lunch:
he has a graham cracker in his hand and mouth, but his lunch was actually mac-n-cheese. i looked over and saw his heading nodding and had to grab my camera before cleaning him up and moving him to his room. poor little dude!
this is his newest thing that DRIVES. ME. CRAZY: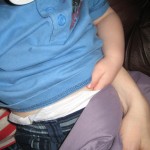 he sticks his hand down his pants (down his diaper, too) and sits there. or walks around like that. what a kid. where DOES he learn this stuff?
today we went to Bible study at church. sam was the "bad kid" in the nursery. yep. they couldn't make her happy. not at all. sigh. i hope they don't start to cringe when they see me coming each week. poor, sweet little pork chop!

the kids BOTH cooperated today, however, and i was able to get a much-needed nap. about an hour. ahhhhhh. it felt so good. but i'm still drinking a pepsi (aka: caffeine boost) at 5:23 p.m. i hope it doesn't keep me up tonight!
and before i go, i'd like to say this: dave has the day off work tomorrow. yep. Good Friday. i LOVE that he works for a Christian organization that sees VALUE in Good Friday. we're planning to enjoy the day as a family (which will include running a few errands). i'm excited for 3-days in a row with us as a family. friday-saturday-and-sunday. yippee!!!