what a weekend! we started it a bit early – dave had the day off from work on friday… such a treat for us both! we didn't get an early start to our day, but we did get into bellingham before noon (barely) where we visited jeff (dave's brother) at work so we could purchase a newly arrived bed…. ahhh… king sized! delivery was set for saturday (woo hoo)! then we ran a few errands, including the quest to find new bedding (which didn't take all that long, actually)!
on friday afternoon, we had some cute rascals knock on our door. like a clown car (only it was a mini van), SIX kids came POURING out of this mini van. riley (10), lyndsey (8, i think), case & logan (5) and eme & maddie (3) delivered some home made easter baskets to the kids: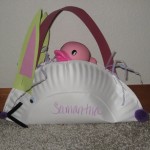 samantha got a pink rubber duckie. davey got a marshmallow bunny, a firetruck car and a white & brown chocolate lamb (riley made the chocolate lollipops). davey at the chocolate within 5 minutes of getting his easter basket. thanks, guys, for the easter treats!
on saturday morning, we drove into bellingham for a fun easter egg hunt (davey's first). it was so well organized (each kid was able to collect about 20 eggs with one of them being a golden egg. the golden eggs were empty, but could be traded for 2 prizes). davey and daddy wandered around the park collecting eggs while i ran around (with sam in the front pack) taking photos.
then we had to rush home (after a quick trip to cash & carry) so we could be home for the delivery of our new bed….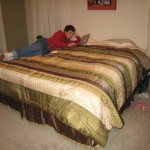 after spending most of saturday getting ready for a family meal on sunday (cleaning the house, prepping food, etc.), i filled easter baskets and dave and i hid easter eggs for davey (using the same candy he got at the easter egg hunt that morning!)!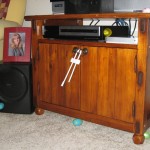 and then on sunday morning, after getting their easter baskets (you saw those photos a few days ago), sam spent some time in the exersaucer while davey hunted for eggs…
which he INSISTED on sharing with his sister. it was so sweet. (he actually insisted on putting eggs into her basket at the hunt on saturday, too.)
and then it was time to take some photos of our cute little bunny (those ears were from the dollar spot at target a few weeks ago):
that face in the first photo is pretty standard for her these days… and i love it! she just likes to suck on her bottom lip…. silly 'lil pork chop!
and while dave was getting ready, i snapped a few photos of the kids… though he took some much better photos of the kids before we left for church (i'll share those soon – probably this week). i love sam's smile in the first photo. after i took these, davey's hair got spiked (dave did a really good job!) and i remembered sam got some pretty hairbands from nana (which i tucked in her easter basket). davey, of course, wanted to wear the one sam had on (which was pink). and though i knew dave wouldn't be thrilled, at least davey ended up with a BLUE one on his head (for 5 minutes)!
we hope you had a wonderful easter celebration and didn't over-indulge your chocolate cravings!