what do you like to do on a beautiful, sunny day? we had a saturday with ZERO plans. ZERO things demanding our attention. davey woke up EARLY so around 9 something dave declared it "starbucks in pjs" day. we all piled into the pathfinder and drove to starbucks in our jammies. we did, however, go through the drive-thru. i think it would've been a little too much for all of us to tromp into starbucks on a crowded saturday morning wearing our jammies!
late in the afternoon, we took a walk to the park. it was chilly outside, but GORGEOUS. we actually had the playground almost entirely to ourselves for about 10 minutes. it was crazy. BOTH of the "little kid" swings were available, so samantha got to try swinging for the first time….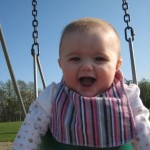 i think she liked it…. what do you think?
at one point, i had not two, but THREE kids enjoying the swings: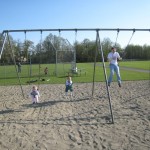 from left to right that's sam, davey and sam. after this photo was taken, dave JUMPED off the swing while it was still in motion (did you ever do that as a kid? i LOVED doing that) and i took his place. and then he was swinging next to me… how fun to be a swinging family of four!
it's been a beautiful week. i'm not sure what happened to all the gray skies and rain that were forecasted, but i'm not complaining. i have a lot of photos on the desktop (b/c i used dave's camera) that i want to share with you, but i'm on my laptop right now, so here's what we've got….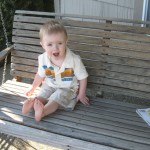 davey loves hanging out on the porch swing! and sam is happy in her exersaucer whether it's inside or outside!