we had an early start to our day today. meaning we were up and showered and dressed and ready to go… FAR earlier than normal. so we drove into bellingham to visit jeff (dave's brother) at work. we had a 15% off coupon to spend on a king sized mattress (we just sold some stock and want to upgrade to a king-sized bed). jeff convinced us to wait a week for a new shipment of better beds. the coupon expires tomorrow (sunday) but jeff said he can still get us a better deal than what we would've had with the coupon. so maybe we'll purchase our new bed next weekend?!
since we were already in town, we ran a few errands and had lunch at a place requiring these: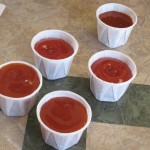 (can you guess where we ate?)
here's davey waiting for daddy and our lunch: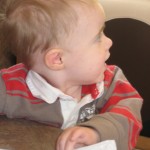 and here's davey enjoying my pre-lunch beverage: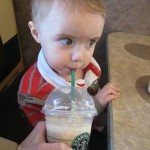 (that's a grande, light whip, mocha frapaccino… my hands-down FAVORITE beverage from starbucks… in fact, it's my almost only beverage – the only other thing i order is hot chocolate. seriously. i don't do coffee…. it's not my thing).
shortly after beginning our journey home, davey looked like this: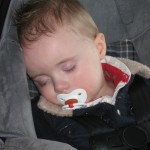 cute story: i was out last night (friday) for a few hours. dave was home alone with the kids. rough. sam, apparently SCREAMED for 75 minutes. just screamed. i walked in the door, washed my hands, picked her up and went upstairs to try to get her to quiet down and eat and then go to bed. but as i was walking across the room to get her, my heart was so touched. davey was bending over her (she was lying on the floor on her play mat), patting at her head in his attempt to tell her it was all okay and she didn't need to cry. and then he followed us upstairs to deliver a burp cloth b/c he knew the baby would need it. his heart is so tender. and he understands so much more than i give him credit. i LOVE this kid!!
as we were heading home, i thought of one more place to stop… and i'm SO GLAD I DID. sam still nurses (or drinks bottles of pumped milk) about 90% of the time. i do supplement with formula… often for convenience, rather than need. the last two times i've purchased formula, it's been a 31 oz. can from walmart for $25. at a discount store today, i picked up the only 4 cans of formula. they were 12 oz cans for – get this – $1 each. the "sell by" date was 4 days ago, which is why they were only $1 each. but seriously, 48 oz of formula for $4?! those four cans are currently in the fridge in the garage, awaiting their turn for consumption.
and i apologize that there are no photos of sam in this post. she was dressed super cute today, in a 6-9 month outfit from nana, but i didn't take any photos. sorry!