tuesday:
today's adventures included costco, treasury (where i forgot to pick up half the stuff i went there to get!) and dollar tree. i love dollar tree. i love bargain stores. i'm addicted. it's bad. but we had fun. here's davey modeling two of our purchases from the dollar tree: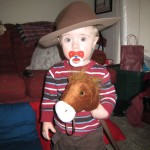 yep. the hat. AND that horse on a stick. really. they had light brown, dark brown and black horses. i should have bought one of each. as for the hats, they had brown, black, red, purple and i'm not sure if there were any others. i should've bought a red one, too. i'm thinking it's time to start building a supply of dress-up clothes. especially if i'm thinking that we might actually try to host play group here!
the funniest thing about this new outfit, however, is davey will rarely play with it. instead, he carries both items to an adult (usually me, but sometimes daddy) and "asks" (whines) until the adult wears the hat and "rides" the pony around the house while humming some western theme song. and every once-in-awhile he wants to hold your hand and pretend he's doing it, too. silly boy! but i still think it's $2 VERY WELL spent!
among other things, i also purchased gardening gloves (with polka dots), safety scissors (for davey – eventually), a bat & ball (for davey's outside toy collection), "tiger" snack containers, alpha "stickers" for scrapbooking, kitchen towels, 2 bibs (for sam) and i'm not sure what else. i was good, however, and did not buy any candy. didn't even go down those aisles!
tomorrow morning is sam's 4-month well baby check. so i'll get her stats to you soon. promise.
and i got an e-mail message today that my pub table has arrived and i can go pick it up (free shipping to the store, ya know)! so here's what it's supposed to look like: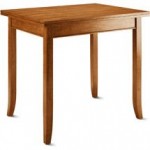 hopefully i like it and will keep it. it's my birthday present from my husband and mom. for my craft space. and in just a few weekends, i should get to share it with my dear friend from montana. elizabeth, i can't wait to see you and P.L.A.Y!!!!