sunday – march 29th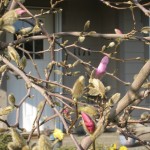 such a beautiful day here in lynden! both kids woke up at 7 this morning. thankfully for me, dave was home to chill with davey while i fed samantha and then put her back to bed about an hour later. i took the opportunity to crawl back into bed myself. and i stayed there for a few HOURS. yep. we missed sunday school AND church (oops!) but it was nice to have a relaxing day as a family, especially since dave didn't get home from his work conference until about 9 o'clock on saturday night.
shortly after the kids went down for their naps, i took a trip to the grocery store. ahhhhhh. a trip to the grocery store without ANY kids… such a treat! since both kids were awake when i got home and it was very, VERY sunny outside, so we decided to go for a walk. it's been AGES since we've gone for a walk (the few times we've talked about going the kids were napping and by the time they woke up, had grown too dark and too cold). it was so WONDERFUL.
davey enjoyed playing at the park:
it was so funny to watch him. he preferred to watch the other kids run and play. silly boy. dave and i were surprised that he had pretty much no interest in sliding on the slides (especially the "twisty" one) when that was one of his favorite things to do back in the summer and fall! the swings, however, remain his all-time, hands-down favorite activity at the playground! we stayed for a long time so he wasn't too upset when we left (no major meltdowns or temper tantrums, at least!).
when we got back home, dave and i each raked some leaves that have been collecting in various places in our front and back yards. davey walked up and down the sidewalk in front of our house: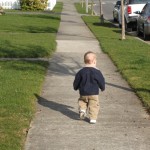 and dave took the opportunity to teach davey that he must hold daddy's (or mommy's) hand when crossing the street: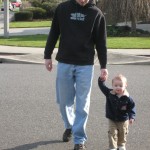 sam learned that it's somewhat comfortable to take a little cat nap while riding along in the baby bjorn: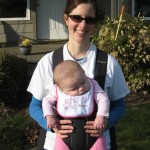 and for those of you who are interested, i've written our dinner menu for this week:
Monday – Tequila Lime Chicken
Tuesday – Salmon (in Brown Sugar & Bourbon marinade)
Wednesday – Margarita Pork Chops
Thursday – Chicken Pad Thai & Red Curry
in the coming weeks, i'll post some of my thoughts about my Fix Freeze Feast cookbook and the recipes i've (we've) tried.
now i'm going to relax and watch tv with my wonderful husband. i'm SO. GLAD. he's home.