it's 10:32 p.m. on friday. and i'm secretly glad that both of my kids are upstairs sleeping. why is it a secret? shhh. don't tell dave's parents (the joke's on me b/c they read my blog faithfully!), but davey was going to spend the night with grandpa & grandma tonight. they were going to "camp out" under the stars (aka: sleep in the living room under the sky lights).
so around 8 o'clock, sam and i headed home from grandpa & grandma's house (my dave is at a conference for work). but around 9 (or was it 9:30?) i got the call. grandma had to report that davey was beside himself. he was fine when we left. he was fine during and after his bath. but then he got tired. and apparently he wandered around their living room. he wandered from chair to chair and when he got to the rocking chair, in a pitiful voice, he said "mama" and "baby." when grandma asked him if he wanted to go home to see mama and the baby, he walked around the living room and one by one, he picked up each of his belongings and carried them to grandma so she could put them in his bag to bring home!
so i am secretly glad that my little boy missed me so much that he had to come home and miss his first sleep over party! thanks for trying, though, grandpa & grandma! maybe next time! i'm sure it had something to do with him not feeling 100% (both kids woke up on wednesday morning with runny noses)!
in other news, i am seriously afraid that i am going bald. my hair is falling out in unbelievable amounts. some due to post-partum (it's been falling out for about a month now) and some must be due to the change in seasons (happens every year). so right now, i'm losing hair way, WAY faster than it's growing back. thankfully, i started with REALLY THICK hair so most people can't tell. but i sure can. sheesh!
and totally unrelated to this post, some photos of my 'lil darlings: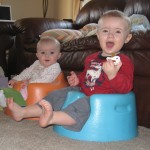 the kids enjoying bumbo seats (thanks for loaning us the blue one, karla!) and then some of the "5-month" photos i took of samantha the other day:
by the way, other items that should be on her list of "sam at 5 months" include:
- likes to suck on her bottom lip and ends up making funny faces
- will grab and reach for toys
- will also grab and reach for face parts of those holding her
- very attentive and alert to the world around her
- eyeballs my food to the point i feel like i have to hide it from her b/c i feel i'm being rude by eating in front of her!