on saturday, i spent over an hour cleaning the play/toy kitchen i bought on craigslist over a month ago. it took a long time, but it was pretty gross. and now it's clean and ready for use. dave and i carried it up to the bonus room on saturday evening…. davey wasted no time putting it to good use:
and then i hung our new mirror: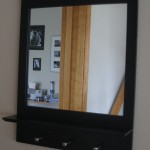 and that night, dad came by to help dave carry a VERY HEAVY box upstairs (to the bonus room). so after the kids were in bed, dave assembled this pretty thing for me: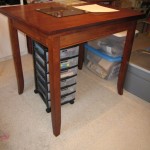 so hopefully i can put it to good use this week. it's my new pub table (birthday present) that i get to use in my craft space. i'm now scouring craigslist for a great deal on some comfy counter-height stools. i LOVE this table. it's solid. and i love the finish. and the top swivels around and folds out to become twice as large…. so there's LOTS of room to share work space with other crafty friends!
also on saturday, sam sported her special onesie from auntie meg: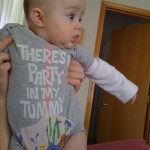 we added the long sleeve white onesie underneath and i left her chubby little legs bare all day – i just couldn't cover up those rolls anymore! :) ahhhh meg… i love your sense of humor. the onesie is now in the wash and will be ready for another day of comic relief for this mama pretty soon!
she's done pretty well with the addition of rice cereal to her diet. on wednesday and saturday nights she slept for 7.5 hours (she'd only done that 3 times before). and on friday night she slept for… get this…. 9.5 hours. yes. 9.5 hours. she's still difficult in the evenings/night time and it's no easy task to get her to sleep for the evening. but if she's going to sleep for a nice long stretch like that, i'll accept miss fussy-pants for who she is. so we'll see how she does this week with her sleep schedule!
and davey disappeared for awhile on saturday. we found him on the living room couch like this:
after finding my camera and snapping these photos, i carried him to bed for his nap. well, technically to the crib. he naps in the crib and sleeps at night in his bed. silly kid!