friday
last night i had a craving. a major craving for ice cream. i hadn't eaten any in about 3 months (the dairy bothers sam). but last night i was willing to pay whatever price was required (extra spit up, extra crying/screaming) because I. WANTED. ICE CREAM. it sounded good to dave so i went off to the store to get some tin roof sundae for him and something for me.
did you know it's nearly impossible to find tin roof sundae ice cream anymore?
what i did find, however, made my heart leap for joy. a limited edition ice cream… one of my all-time favorites… was available for my splurge: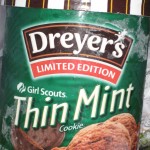 now i am NOT a fan of girl scout cookies. not at all. you can call me un-american, if you like. (i also don't eat apple pie and i'm not into baseball). but i do like this ice cream. chocolate ice cream. thin mint cookies (which i don't like to eat on their own)…. mmm mmm good!
what's your favorite ice cream flavor?