thursday:
i feel like i haven't had much to share lately, which is why my blog posts were less frequent. today is no exception to that. but i do have some cute photos to share.
one day this week, davey climbed up into the chair in sam's room while i changed her diaper and got her dressed. when i was finished, he asked to hold her. which means he sat in the chair and patted the empty space next to him and said "bebe."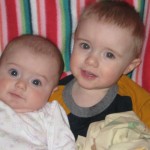 and the longer he got to sit in the chair with her, the more he wanted to love on her. so here he is kissing his hand and then touching his hand to her face. it's one way he kisses people (kinda like blowing kisses).
sam was getting squirmy, so i picked her up and he got upset… so i put her back in the chair with him. and then he did this:
the love he has for his little sister makes my heart melt. i pray that he will always love her like this. that he will always protect her. that they will have a special bond. and that they will be good friends. oh, he makes this mama so proud!