tuesday
we're fine. we're fine. we had a busy weekend. on friday night we had a family party for gigi's birthday (great-granma – dave's mom's mom). on saturday morning, dave went to fibercloud to do some work for pogozone (his side company) while the kids and i had a play date with jake (aka: snoop). i neglected to take my camera out of the diaper bag at EITHER of these events. my apologies to all.
then, on saturday evening, we had dinner with our friends dan, heidi, savannah and kaitlyn (not sure how to spell it). kaitlyn was born exactly one week after sam (10/24 and 10/31) even though heidi's due date was several weeks before mine! davey and savannah (age 3) had fun running around and chasing each other and pushing strollers and laughing, laughing, laughing! davey did get in a little trouble, and i was embarrassed….. here's a photo of him pointing to his "no-no:"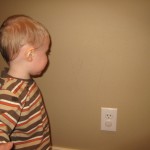 yeah. i know you can't see it in that photo. try this one: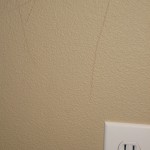 can you see it now? red crayon. on their khaki-colored wall? yeah. that was my son. his first experience with a crayon and a wall. i suppose i should be thankful it wasn't at my house. but i really am embarrassed. SORRY, dan and heidi!
but samantha and kaitlyn seemed to like each other: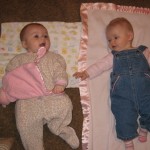 and then on sunday, some of the TOM girls got together to play at the store. i started AND (almost) completed a mini book about davey's 1st birthday party. i think i accomplished more than anyone else. but again, i didn't pull my camera out of my bag.
yesterday was a trip to the grocery store and today was a trip to costco to get all the necessary ingredients to try a few recipes from my Fix Freeze Feast cookbook. i spent 2 hours in the kitchen today and made 4 Bs Pork Chops and Garlic Mashed Potatoes. Based on our family meal-time needs, i managed to get 5 (or 6) entrees of the pork chops and 7 entrees of garlic mashed. seriously. tomorrow i think i'll be making a Brown Sugar & Bourbon marinade for salmon. the rest of the week will bring Tequila Lime Chicken and Veggie Lasagna. and perhaps Cheese Biscuit Mix. oh – and in case you're wondering, the chops were tasty (though i over cooked them a bit) and the garlic mashed potatoes were very light on the garlic and salt (so i'll add more when i reheat them). and i did note those things in my cookbook!
and to make you smile…. because this makes me smile: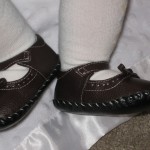 cute, brown, baby girl shoes!