what's on your menu for dinner this week? wanna see our menu? here goes: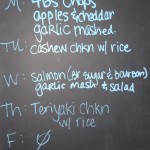 i forgot to make the brown sugar & bourbon salmon marinade last week so we'll try it this week. we'll also try the recipes for apples & cheddar (a side dish), cashew chicken stir fry and teriyaki chicken. the 4Bs pork chops and the garlic mashed potatoes are from last week's cooking adventures. so far, so good. each recipe has needed a little bit of tweaking, but overall, i'm pleased with the taste(s) and so is dave. whew! :) i may also make a cheese biscuit mix this week. we'll see how the week progresses.
on friday, the kids and i went to visit gigi (dave's granma, known to our kids as "gigi" which stands for "great granma"). davey likes to walk the halls at the manor (gigi lives in an assisted living facility). samantha just enjoyed sitting still and watching gigi (for about 5 minutes):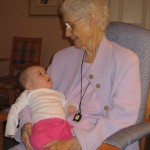 i was able to scrapbook a bit this weekend… i'll share some of those layouts soon. i also am in the progress of cleaning out my closet so i can make some money consigning my never and rarely-worn clothing. gotta make some money so i can buy some new stuff! i have a shopping adventure on the calendar in may (to celebrate dave's mom's birthday and mother's day)!