so today was samantha's 4-month well baby doctor's visit. she is G.R.O.W.I.N.G!!!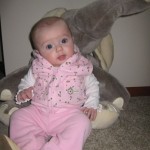 at her 2-month appointment, she was in the 15th percentile for height and weight. today, she moved up to the 75th and 90th percentiles! she weighed in at 14 pounds 9.5 ounces (davey weighed 13 pounds 1.5 ounces at his 4-month appt). and she's 25.5 inches long (davey was only 24.25 inches long). her head circumference is 42 cm. she is definitely her daddy's daughter! :)
in short, weight and head circumference are 75th percentile and height is 90th percentile.
she likes to chew/suck on her hands. she's eating and eating and eating (i'm supplementing with formula b/c i just can't feed her enough!). and tonight we get to try rice cereal. finally. hopefully this will help with the sleeping situation. i'm exhausted! she likes to look at toys. she LOVES to watch her brother. she does nap pretty well…. until the evening arrives. and then we're in for a few hours of her fighting sleep and eating and eating and eating (hence the start of formula and bottles)! yesterday she was awake from 3 p.m. to 9:30 p.m. with only a 10 minute nap around 6 p.m.
as of yesterday, she started trying to roll over. no success yet. but she's trying hard. and she'll have success any minute now, i'm sure.
tomorrow is a big day. we have to drive to mount vernon so i can get my stitches removed. which means a stop at the outlets in burlington (carters, gap and osh kosh b'gosh among others). and then nana leaves tomorrow night. davey had better start sleeping later in the morning. for the past week he's been getting up at 6:30 a.m. i know. that's not a happy thing in this house.