my brother was able to swing up to lynden for a quick 35-hour visit last weekend. work was taking him to google's main campus (mountainview in northern california) for a week, so he took the opportunity to add a few days to his trip so he could meet his niece. it was really special for me b/c he wasn't able to meet davey until he was 11 months old (when we went east last summer). (side note: there were initially plans for john & babi to meet davey for thanksgiving 2007, but life happened and then they just couldn't get away to fly across the country to meet their little nephew). john has three girls of his own (ages 17, 14 and 10) so he was an old pro with my fussy little girl.
a few days before his trip, he decided to start exercising again…. by doing yoga, b/c that's about all the time he can cram into his overflowing schedule these days. unfortunately, he over did it and tweaked his back. so this photo is a bit amazing… that he has a hurt back and is still holding both of my kids. granted, davey is a light-weight (probably around 22 pounds) but sam is putting on weight pretty quickly (i'll know next week how much she weighs).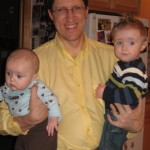 both of my kids really love their uncle john. davey had so much fun playing with uncle john.
they played (briefly) with davey's laptop. and in that middle photo, davey got SO EXCITED b/c uncle john agreed to let davey see elmo on his (uncle john's) phone (AGAIN). davey was practically dancing around with glee. see, earlier in the day, john pulled out his phone and found a clip of elmo (i'm assuming on you tube or something) and played it for davey. from that point on, davey KNEW that uncle john's phone had elmo in it. so the little rascal would try to dig the phone out of john's pocket. or while john was texting his daughters, davey would point to the phone and say "melmo" repeatedly. so when uncle john agreed to "one more time" on sunday night, davey crawled up on the couch next to him and started smiling like there was no better present in the world than sitting next to his uncle while watching elmo. such a sweet moment and i can't wait to scrapbook it. and that last photo, of john pushing davey up to the ceiling with one hand, is SO TYPICAL of my brother. i probably have photos of him doing that with each of his girls (and if i don't have actual photos, i have a lot of memories of him doing that). and he did it over the summer with davey at their first meeting. yes, davey took quite a shine to uncle john. it was a good thing my brother left while davey was still asleep or i'm sure there would've been a bit of a meltdown (kinda like when grandpa or uncle tom has to leave)!
and my sweet, fussy-pants daughter really liked her uncle john, too, despite her tummy aches. and john, bless his heart, took it all in stride. he held her while she cried and screamed and stiffened up like a board. i wanted him to have as much time enjoying her (or tolerating her?) as he could while he was here since his visit was so short. he remembered the tricks of the trade, though, which was impressive…. hold her with her tummy on your arm and her head in your hand…. lie her on the floor on her tummy and thump on her back… stand and walk and bounce with her…. yep. an old pro. and in return, she did have some moments of such happiness and delight and her face just lit up with the biggest grins! he got to hold her while she slept. and while she ate (i love the last photo – somehow she managed to hold her own bottle for the first time!). and she pooped a really good poo while he held her (though this mama changed the diaper). he even tried to get her to stand for a split-second!
we had a very good, but very brief visit. and i can only hope that samantha will get to meet the rest of her family (aunt babi and her cousins liz, kate and wendy) sometime before she turns one. NYC is just so far away!
so john, thank you for adding a few extra days to your trip to come and see us. thank you for sleeping on a camping mat on the floor in the bonus room since we have no more beds. thank you for leaving your family to come see us (well, okay – to see davey and samantha). thank you for making us a priority last weekend. we loved having you visit!
(you'll notice my mom in the last photo of john with davey. their visits overlapped for a few hours on sunday so we had a very full house!)