tuesday:
yesterday was a good day. i didn't get any additional cleaning or organizing done. and that's okay. i forgot to tell you that my friend brandi found a small GOLDMINE for me last week at Deals Only: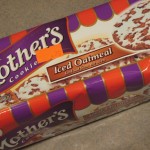 these are the nearly impossible to find Mother's oatmeal cookies. mmmmmmm. they are so yummy. she picked up the 4 packages she found in the store. for 79 cents each. this is the brand of cookie i blogged about a few months ago…. the cookies you won't be able to find in stores pretty soon (if you can still find them now, that is). if you like the animal cookies that Mother's makes, deals only has thousands (no exaggeration) of bags of them for 79 cents each right now. the store is overflowing with almost every brand of Mother's cookies you can imagine. except for the oatmeal cookies. i have the last 4 packages. well, 3…. i ate one package already!
though i didn't do any additional cleaning or organizing yesterday, i did get to rite aid to find this little gem: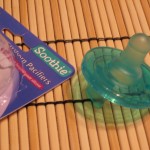 this might be the answer. i hope this is the answer. i've tried countless pacifiers for sweet sam. and she might not be a pacifier baby… which is okay with me now that she's learning to suck on her hand. but this "soothie" is the last one i'm trying. and i've actually been searching for it for awhile. target and walmart never had them when i was looking for them. and now that sam is almost 4 months old (one week shy), i find the darn things just a few miles from home… at rite aid, of all places. she did take it (briefly) while we were at dad & mom's house. so we'll see what the future holds for sam and a "soothie." (and yes, these are the pacifiers that many babies get at the hospital. and no, i didn't get them with EITHER of my children).
some sweet photos of my baby girl…..
in that first one, she's wearing a cute onesie with sparkly cord "jeans" from miss alissa (that link shows the wrapped package – so cute!) and in the second photo, she's wearing a onesie that says "daddy's honey bunny." tee hee. i love her smiles even though neither photo is all that good.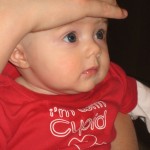 that's dave's hand on her head. i think she looks so sweet and innocent in that photo.
and here's sam in her dress from this past sunday. she's not the most lady-like, but check out her feet… i do believe that's a ballet position – first position, perhaps (there are five, if i remember correctly – though no, i never took ballet or any dance lessons). renee, can you confirm… is that first position or is it fifth? the more i think about it, the more confused i get!
and what little girl isn't cute when wearing a onesie with red cherries on it?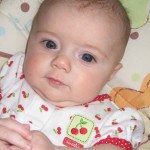 so there's a little update on samantha. sometime this week i'll share some updated photos of davey with you. deal?