friday
it was gorgeous yesterday. the three of us (davey, sam and i) got outside for a short walk (to the mailbox and back – i guess that doesn't really count as a walk, huh?) and davey played outside for about an hour while i walked around (and tried to sit) with sam in the bjorn. when we were at walmart this morning, i found a cute toy that i thought davey would enjoy. since he's actually lacking in the "outdoor toy" arena, i opted to purchase it for him for an astounding $5. it's an 11-piece (ultra-cheap-o plastic) golf set! three clubs. 3 balls. a "caddie." two flags. and 2 "holes." it might not make it through the fall, but if it lasts through the summer, i'll be happy. it definitely kept him entertained today AND (i'm proud to say) he WALKED ON THE GRASS to pick up the items (especially the balls, which he would throw onto the grass). since i had sam in the bjorn, it was hard to bend over and try to teach davey how to swing his clubs (i took golf as one of my PE classes while i was in college), though i did try.
and after a good long round of golf, it was time for a break on the porch swing: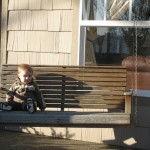 that poor porch swing. we love it. we really love it. it was a wedding present from dear family friends (thanks again, ken & ann – it gets use year-round). it's definitely showing some signs of wear-and-tear. after all, we've had it for almost 7 years now. so back when i was pregnant with davey, we bought some stuff so i could sand it and re-stain it… just to make it look new again. but i couldn't get it down by myself and by the time i remembered to ask dave to help me, it was too late…. davey had already been born! so it was my project for last summer. dave unscrewed it for me, but again, we never actually got it down onto a tarp so i could sand it and refinish it. will this be the year that the project FINALLY gets started? and completed? only time will tell. thankfully, it's only february, so i have a few months before i have to come up with (good) excuses why not to embark on such a project!