wednesday
quick update. i had a hard time leaving my kids yesterday morning. sam was with nana. davey spent the day with carrilee, henry and jorja. (my mother in law, linda, injured her shoulder and was scheduled for an MRI in the afternoon and was on some strong pain meds. we'll know the results of her MRI in a few days.) i didn't think it'd be so hard to leave the kids. it was weird. i was a little teary, even. surgery went well. i started to get nervous around 11:15 – we were almost to the surgery center and i started to think about the recovery process. then i was fine. and then with my extra-long wait in the pre-op room, i got really nervous again. my surgery was scheduled for noon. it was 12:58 when they started my iv. we got to head home around 3.
i'm in pain… oh how i like my vicodin (i think it's actually hydrocodone). hopefully i'll sleep well. i'm pumping and dumping for 24 hours. i've had various responses from various medical providers… and have decided for myself (based on all their recommendations) that 20-24 hours will be just fine.
here's what i looked like 7 hours post-op: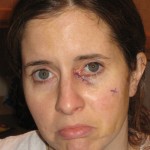 i'm making that pouty face on purpose. but it looks a little more scary than sad. dave took a photo of the surgeon and i today – i'll have to get that from his iphone and share it with you.
today and tomorrow i have to have ice on my face all day long. day three is easier to handle (ice it 4 times for 15 minutes each time). day four is heat. the first week requires my extra expensive ointment 3x a day. and i need to follow up (to get the stitches out) on thursday the 5th. and the stent will be in for several months (no blowing my nose for a month. seriously. and i have to sneeze with my mouth open. they told me so)!
tomorrow you will read all about uncle john's visit. and you will see cute and fun photos. and no photos of scary me. i promise! and now i must go ice my eye and nose.
(oh yeah – i found another pub table on-line and ordered it. i'm hoping this one's THE one. but it was free shipping and an easy and free return policy, so i decided it was worth a try… i've really got nothing to lose! so that should be here in early march…. if not sooner.)