tuesday
so last night, dave's parents, his brother tom and our family of four headed to On Rice (barkley) for a nice thai food belated birthday dinner for me. on the way to pick up dave from work, the kids and i stopped to pick up this little gem:
pretty sweet, eh? it needs a serious cleaning. it's FILTHY. but for $25 for the whole lot (kitchen and food and plates), i think it's worth the hour (or two) of my time that it will take to clean this toy! it barely fit in the back of the pathfinder! in fact, i had to "prop it up" on the row of seats where davey and sam sit (had i had zero kids with me, it would have fit in the back no problem)!
but i digress…. dinner was yummy. oh. so. yummy. i really wanted to order chicken pad thai. but we've been making that at home at least once a week for the past month (i'm a little bit addicted to it) so i opted to go for my old stand-by: emperor's cashew (with chicken). mmmmm. it was tasty. and even though it wasn't an easy or peaceful meal (sam was fussy so i left with her. then dave. then dad. then i left again to feed her. by the time i got back, my food had gone cold. but at least i have left overs!). then she cried/screamed almost the entire way from the restaurant to mom & dad's house. she really does struggle in the evenings. any suggestions? davey did pretty well there – it was his first time sitting on a booster seat rather than in one of those wooden high chairs: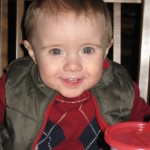 back at mom & dad's house, we whipped out my tasty dairy queen ice cream cake: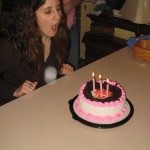 see how there are three candles? we lit them twice (b/c jeff missed a photo opportunity the first time) and both times i only could get ONE blown out. seriously. and mom says they weren't trick candles!
a few other shots: