monday
have you missed us? i feel like i've been a bad blogger lately. not sure what's up, but my apologies to those of you who wait for cute photos and fun stories!
we had a good weekend. i spent a few too many hours on saturday defrosting our garage freezer the hard way. (that means with buckets of warm water and a hammer). but it's mostly done. and now you can find food in there. and i know what's in there. whew! for the past few summers i've meant to defrost it but it just hasn't happened. apparently this past weekend was time… i just couldn't take it anymore!
yesterday morning, dave let me sleep in and he got up with davey. i was able to wake up slowly, take a shower and get ready for church and then go get sam to feed her. when i went into the bonus room to see the boys (and feed sam), it was dave's turn to go and get ready for church. when i saw him almost an hour later, he looked like this: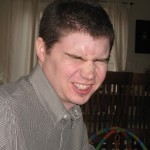 well, since this photo was taken downstairs, he didn't look just like that. but you get the idea… see his short hair? he hasn't had hair that short in over two years! seriously. two years. davey was a bit shocked when he saw daddy's transformation. well, maybe shocked isn't the right word… confused? but it didn't take long for him to see that it was the same old daddy – just without as much hair!
here's a before photo (from back in mid january):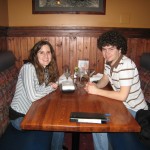 there's currently a HUGE pile of hair on the floor of my garage… it looks like a wig… or a dead animal. gross. absolutely gross. maybe i'll take a photo of it.
last night was a TOM girl crop. samantha came with me and though i didn't get even one project completed, i did take this funny photo: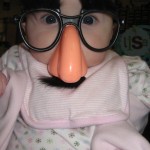 the glasses belong to fellow TOM girl, sara blair. sam was funny – she left these on her face for 10 minutes without fussing! it wasn't long after this photo, however, that we headed home. i just couldn't make my sweetie pie happy. about 20 minutes after arriving home, i found out why. she made a BIG poo. she was VERY happy after that!
and to show me just how much she DOES love me, she decided to sleep from 9:45 pm to 5:15 am. she did wake up around 2-ish, but she just fussed a little and fell back to sleep on her own. hopefully this is a sign of things to come (longer bouts of sleeping at night)! and yes, she did go back to sleep at 5:30 this morning.
after play group, we visited with grandpa & grandma where i snapped some new photos. in this first shot, davey picked up the red book (i think he got it out of an end table drawer) and kept pointing to grandpa and the red chair. in fact, he walked over to the chair (book in hand), started to climb on it and then walked over to grandpa and "whined" until grandpa sat in the red chair…. and then he pulled davey up into his lap and davey was content. that kid knows EXACTLY what he wants.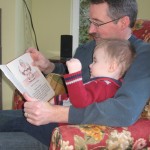 and samantha took some time out from being fussy to enjoy her grandma… i think this is one of my new favorite photos: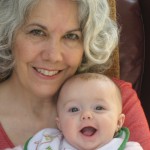 definitely a "keeper" photo, eh?
tonight is a family dinner at On Rice to (belatedly) celebrate my birthday. the kids and i are leaving a little early to pick up a play kitchen from a craigslist seller and then to get dave from work. i'm still trying to track down just the right pub table (my birthday present from dave) to use in my craft space. i thought i had found one on craigslist, but as i was getting ready to leave the house yesterday to look at it, the seller called me…. she had just sold the table. sigh. so close.