thursday….
such a fun day! this morning, brandi, emma and jaden came over for a play date. hope today was much better for you, brandi, than yesterday! unfortunately, i took zero photos while they were here. davey took ANOTHER good nap today (over 2 hours is my definition of a "good" nap).
and tonight was the baby shower for the bright twins! i realized that i totally forgot to take a photo of my gift(s) but i got lucky and karla is holding half of my gift in this photo: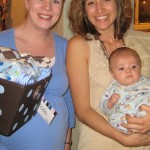 so first, that's karla (in blue) and sara (by now you all know my dear friend sara, right?!). sara is holding cute and cuddly baby caleb (who was born 18 hours after samantha). second: do you see what karla is holding? it's a brown tote and i made it polka-dotted! blue polka dots for her baby boy and pink ones (on another tote) for her baby girl. i filled the totes with some goodies – some super soft polka-dotted blankets (i LOVED them, karla, b/c they were soooooooo soft!), bottle, pacifiers & clips, clothing (of course – how could i NOT get some clothing?!), snack containers (for when they start eating cheerios!), baby clothing hangers (pink ones and blue ones – seriously) and i don't remember what else – that might be all.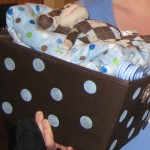 (side note: that darling argyle monkey is from sara, not me. it's from gymboree and it's still available on-line. they do not, however, have the argyle brown & pink giraffe on-line – i just checked!)
karla, you are a beautiful, beautiful person. i have thoroughly enjoyed getting to know you over the past few years. i appreciate your reserved personality (we balance each other pretty well). you are going to be an amazing mama to these two precious babies. thank you for letting me share in this journey with you. i really am eager to hold your babies. and to be your "pit stop" when you're out for a walk. and to cry with you when you've reached your wits end.
and now that i've written those nice things about you, please don't hate me for posting this fun photo: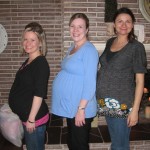 these are 3 of the 4 pregnant ladies in our church. i love them all! stacy (this is her 3rd) is due in early may. karla is due in march, but with twins, she could have them much sooner. and alina (this is her 1st) who is due in april (i think). alina and her husband will be moving to CHINA (yes, the country) in july.
and just a few other fun photos from the party:
didn't shelly do a great job on the diaper cake? i love that one side was boy and one side was girl! and i'm a sucker for polka dots (that cake is pretty sweet too, eh? it tasted OH. SO. GOOD)!
the two youngest attendees at the shower were samantha and caleb: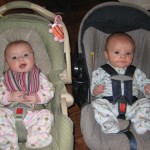 seriously…. they are TOOOOOOO cute! i might be biased, but seriously… look at them… they're round and sweet and oh-so-fun! pretty soon, karla will have two just like this!