monday
as a surprise to me, dave doesn't have to work today so we're just doing stuff around the house. both kids were asleep in the car when we got home from play group this morning and there were a few things that were just bugging me, so i did something about it (them). i mostly cleaned the two upstairs bathrooms. then i finished my garage freezer organization project. wanna see? well, you're gonna anyway (unless you skip the pictures):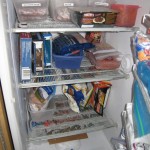 so that's the tidy and organized freezer. and here's what i did today to help keep it that way:
yes. i am a dork. i made a chart for the freezer so we know where to find things. remember, this is the freezer in the garage. so i used a sheet of 12×12 white cardstock and drew lines on it to represent the shelves and the shelves in the door (though we actually have 5 shelves in the door – oops!). and i used a set of cheap-o magnets that i've had hanging around for a few years. i covered them with yellow cardstock (b/c yellow is a sunny & cheerful color to see, especially in a dark garage!) and then i used my label maker to make the labels. so now each food item is actually a magnet. so if (when?) i move stuff around again, i won't need to make a whole new chart – i'll just have to move the magnets.
it was an easy project and it only took about 30 minutes from start to finish. not bad.
i have lots of cute photos of the kids to share, but i need to get back to cleaning while i have the motivation and the time and the energy. my brother comes to town on saturday (yippee!!!) and then my mom arrives on sunday and my surgery is next tuesday (a week from tomorrow). i promise to share kiddo photos soon. but for now, i must get back to work cleaning and de-cluttering!