thursday:
today it's about davey. AFTER i give you an update on my pub table set. turns out, the one i posted yesterday is pretty flimsy. i saw it set up in the store and i was not impressed. but there was another set i liked for just a little bit more. and according to their scanner inventory, there were TWO in the back room. only after searching for 5 minutes, the furniture guy gave up and said they didn't have any. i was so mad (b/c seriously, if the inventory gun says there are two, there are two. it's not like someone can just walk out of the store and easily steal a pub table with 4 stools)! so i left all the other items i was going to purchase in a pile and i walked out of the store. i hate our k-mart anyway. it's dirty. and gross. and i usually forget it even exists – i'm surprised it's still open. it's always pretty empty when i'm in there. and there's never more than 2 cashiers (and usually there's only 1)… but i digress. so i am still searching for my pub table and stools for my craft space. sigh.
so my sweet son turned 19 months old last week. well, on sunday. so i guess that's technically this week. he's at this stage where he changes noticeably every 4-5 days. his attitude. his vocabulary. his sense of humor. right now, he LOVES to play with his velcro food (wooden food that has velcro so he can "cut" it apart with a knife – it's a Melissa & Doug toy. he can say the sound to a number of animals (horse, dog, cat, sheep, duck, cow and maybe even pig). he naps in a crib and sleeps in a twin bed at night (both by his choice). he's a light eater and i struggle to find food for him… but i keep trying. and he'll ALWAYS drink milk, though he prefers it from a bottle rather than a sippy cup. speaking of sippy cups, he now likes the kind that leak. the kind with no valves. 'cuz he's a big boy, you know! :) also, he's an outdoor boy, no matter HOW COLD it is, he would rather be outside than inside.
while sam was napping last week, davey and i walked to the mailbox and then played in the driveway. it happened to be the same day we ran to the mall which included a stop at target and the target dollar spot (which was filled with elmo books – and we bought a few)! does he look like such a big boy in the first photo where he's walking away from the house?
he played with his outdoor ride on/push toys for a little while, but for the most part, he was rather content to simply walk around in circles. his toys stay outside through the wind, rain and snow, so they tend to get a little water logged. his one toy left a trail and some small water puddles on the driveway and he thought it was SO MUCH FUN to squat down and look at them closer! and he really had fun walking over to the far side of the driveway, pointing to the neighbor's house and saying "mow" (as in "ow") b/c the neighbors have cats. it cracked me up to watch him do it over and over and over again!
here's his yogurt face: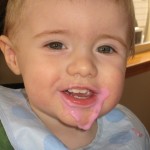 he LOVES to feed himself yogurt. as you can see, it's MESSY. but he does get quite a bit into his mouth, so i'm okay with it.
i'm not okay, however, with him getting into my make-up drawer, which is what he did on sunday morning: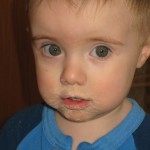 that's powder around his mouth. hopefully he DID get to taste some of it so he'll leave my drawer alone in the future!
and here's davey sitting in two things that he shouldn't sit in…. the first is a stacking organizer bin from the play room. the second is a pink & purple vibrating bouncy seat that we're borrowing from a friend…. obviously, we're borrowing it for sam. not davey.
funny story: when we put sam in that pink and purple chair, davey gets SOOOOO MAD. he stands in front of the chair with his back to it and tries to back himself into it… as though he's going to sit on top of his sister. in fact, he has touched his little tush to the edge of the chair. and i can assure you he gets in trouble for doing that!