monday
been MIA (again) for awhile. sorry. my brother was in town for 35 hours so i wanted him to spend as much time with the kids as possible. and now my mom is in town to help with the kids b/c my eye surgery is tomorrow (at noon). i just tried to find this scary photo of me from after my last eye surgery, but it's not on the computer – at least not that i can find it. probably for the best, anyway, though i did find the photo (and the stent) in my scrapbook yesterday!
i'll probably (hopefully) write a post tonight that should show up tomorrow. but here's a photo that really shows me how much he loves her (even though he's showing some small signs of jealousy):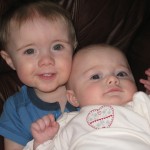 he loves to sit on the couch, grab one of her blankets and then wait for us to put her in his lap. and he really is gentle with her (most times)! and she LOVES to just watch him – play, eat, laugh, drink a bottle… you name it…. if davey does it, it's worth watching, according to samantha!
and two fun photos from yesterday:
that's uncle john (my brother), with an injured back, holding an extra 35 (roughly) pounds. and nana (my mom) with sleepy sam.