Saturday
HAPPY NEW YEAR!!!! we had a great time at brant & trisha's party. we got off to a late start b/c dave had some work woes and since he works on the live website, he had to fix the problem before he left work. but we were only 30 minutes "late" to the party and since it was an informal gathering, that was fine (we weren't even the last people to arrive)! the only planned activity of the evening was a fun root beer tasting session. we had 6 kinds of root beer and it was a blind taste test. we had to guess which letter was what brand. and which ones we THOUGHT we liked best and then which ones we DID like best. i did pretty well. i only messed up two of my least favorite root beers: barqs and a diet brand.
in addition to the fun of being together and doing a root beer tasting, carrilee and i FINALLY got a photo of sam and jorja together: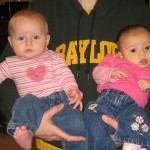 these sweet darlings are just over 3 months apart in age. if they're anything like their mamas, they'll be fast friends. and carrilee loves that davey is already looking out for jorja when they're in the nursery… is it a sign of things to come?
carrilee took her kids home around 9 (her parents were there to watch them) and then she returned to the party. joshua (brant & trisha's son) had already gone to bed, so davey and sam were the "lone" children. sam had lots of loving arms ready to hold her. and davey just toddled around playing with all of joshua's toys. i did try to put him to bed around 10 but he would have none of it. so instead, he ran around until we left the party…. at 1 a.m.!!!!! and he did NOT fall asleep on the drive home. seriously. he did, however, fall asleep seconds before his head hit the mattress in his crib. what a kid! at least there was very MINIMAL whining during his late-night partying!
he didn't sleep all that long after that, but he did take a 3+ hour nap on Thursday and again on Friday.
as for me, i got to go out and shop (and return items) on thursday…. without the kids! dave stayed home with both of them and let me have a little break. i returned things. i exchanged things. i bought a few things. and i got to stop by my favorite store…. Treasury! i got to say hi to my friends (who were a bit disappointed that i did not have any children with me, though they were glad i had the opportunity to get out for a bit) and i hit some sweet sales. all-in-all, a good day.
yesterday morning davey was acting pretty tired but i'm still trying to push him into a later nap (around 12:30 or so) but apparently it was all out of my control yesterday. i got a late shower (around 11 – sam had a hard time taking a nap yesterday morning!) and when i got out of the shower, i thought it was odd that davey wasn't running around the room. so i headed downstairs and this is what i saw: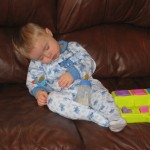 my little boy was out cold on the couch. binkie and bottle just resting on him! it was only 11:15 but he proceeded to sleep (i moved him to his crib) for 3 hours again. whew!
i'm about to head upstairs and hang samantha's wooden letters in her room…. i FINALLY got them all painted this week… here's a peek at the "s":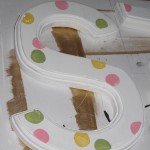 i promise to share a photo of the fully finished project (meaning a photo of her name hanging on her wall)!
dave's in the shower and then we're all gonna head into town (through yet ANOTHER inch of snow… seriously, we seem to wake up to a little bit of new snow every morning. i LOVE it!). we've decided it's time to visit Lowe's and figure out how to build a pony wall in the bonus room to separate my craft area from the rest of the room…. davey's too smart and is now able to climb onto the rubbermaid storage bins that are currently stacked two high to "block" him from my area of the room!