thursday:
our household is recovering. davey is doing great. no signs of any continued cold. dave went back to work yesterday. he's doing pretty well. weak, but he's doing much better. and i was still a big out of it yesterday, though we still managed to trek to target yesterday morning. today, however, i'm feeling much better. i haven't taken any cold medicine in over 24 hours, though i'm still taking advil from time to time.
remember my nailpolish story from monday? the color is lavish sable. sounds so… indulgent. here's a peek at the bottle: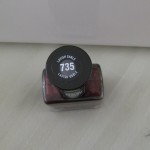 and what it looks like painted on my nails: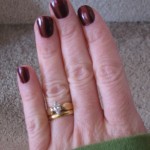 i can't tell you the last time my nails were painted. fingernails, that is. there's just something about being at home, doing (what seems like) routine, mundane tasks that seem just a little bit better because i'm wearing nailpolish. i think the last time i had a dark color on my nails was probably when i was a senior in high school… during cheerleading. i have one photo of me in my uniform with red, red, red, red nails. hard to imagine, right? i know. unfortunately for you, the photo is back in PA… otherwise i'd consider scanning it in for you to see. maybe some day! :)
* side note: it helps to have something to feel good about. the week of Christmas, my left eye started watering again, which means my make-up is usually gone by the end of the day. ugh. so when i see the doctor for my follow-up from my in-office procedure (appt. was rescheduled to next week due to bad weather back in december) i'll probably have to schedule the surgery. i'll keep you posted. * now, back to the conversation about nail polish……….
unfortunately for me, the indulgent color, lavish sable, doesn't look so good on davey's camo clothing:
thanks to my dear friend shawn, there might be a solution (oh yeah, the above photos were taken AFTER the clothing soaked in oxi clean for 16 hours and then went through the washing machine). so once i get my hands on some carbona #1, i'll give it a try and let you know if we managed to salvage either article of clothing. i'll also be trying the "magic cure" on my jacket and the new shirt i was wearing that day!
on another note, yesterday was VERY, VERY sunny. it was cold, but sunny. so after davey's nap, we bundled up and the three of us headed to the park. it was a good day for a walk. we got to the playground and davey didn't quite know what to do. we went down the slide. i pushed him on the swing. but mostly he just walked around the gravelly sand wondering what to do! today is pretty sunny, too. not sure i'm up for a walk, but we might venture out anyway. after spending almost 2 hours in his room NOT napping, he finally conked out on his bed: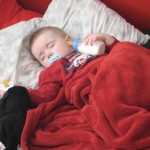 for the past few nights, he's slept ALL NIGHT in his big boy bed. we'd put him in his crib and in the middle of the night he'd wake up and need some comforting. and then he'd cry so hard if we put him back in his crib. so we let him finish the night in his bed. is it possible that my child may be making the transition from crib to bed all by himself? what's next? potty training? i'm all for that! :)
and not to be left out, here's a photo of sam from this morning: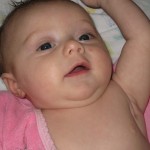 last night she was back to her old ways. crying. crying. and crying. with no end in sight. no way to calm her down (other than nursing). thankfully, dave was willing to walk back and forth in our living room while holding sam for 30 minutes last night. while i slept. i love my husband. not sure how he does it all. he really does seem like superman some days. thankfully, the new and improved sam seems to be the one who woke up in our house today. and that makes me happy.
time for me to go and enjoy the end of naptime…. and figure out what to make for dinner! i need some new recipes. tried and true. anyone got any they want to share? and on that topic, does anyone know how to make (boneless) pork chops tender? mine are always tough. no matter how i cook them. what recipe i use. tough. grrrrr!