tuesday:
thanks for all the birthday greetings and wishes yesterday! my day began with play group… an odd play group, though a good one. i showed up at carrilee's house with snack (i made a cake to celebrate several birthdays – lisa, preston and i – me?) shortly after 9. by 9:30 no one else had arrived – not unusual. we made a joke that the "official start time" should be moved to 9:30. but by 10 no one else was there. by 10:30 no one else was there. yep. it was the smallest number of attendees in the history of this play group – carrilee and myself!
carrilee and i had a really good visit, interrupted several time by the children, but what else is new? around 11:30 i realized what time it was and decided we should head home. that's when henry had an accident. after he got cleaned up, i noticed RED lipstick (or marker, perhaps?) on his upper lip. i made a comment to carrilee. she checked it out…. it was blood. turns out, her dad left his disposable razors here after his last visit (Christmas) and carrilee usually keeps the downstairs bathroom door closed b/c the razor was in there. but she had opened that door today b/c play group was at her house and she wanted the kids to be able to use that bathroom. turns out henry decided to try shaving…. he's not even 3 yet!
while she tried to stem the blood flowing from his lip, i took davey downstairs to the basement to return the pool table balls that he was throwing around upstairs. when we put the balls on the table, i noticed blood on his hands. my heart started to beat. i ran upstairs with him, set him on the counter by the sink and grabbed a paper towel. no cuts. whew. then i noticed a bloody ear. more water and paper towels. nope. we though henry had just kissed davey yet again (henry, while being a bit of a wild child and rough & tumble little boy, is also very loving and affectionate)…. until more blood appeared. in all, i found three little nicks on davey's left ear. neither davey nor henry cried until carrilee and i applied pressure to the wounds to try to stop the blood flow ('cuz you know head wounds just keep bleeding!). poor kids. carrilee took davey to her bathroom to apply some small, round band aids. i loaded sam into her car seat (she was screaming 'cuz she was hungry) and took stuff out to the car while carrilee finished with davey. we have no idea what actually happened – did henry accidentally cut davey with the razor? did davey think it was a comb and accidentally cut himself? no one knows but those two sweet boys. i assured carrilee that all was fine and that it was highly unlikely that this would be the last time the boys would bleed together. and out the door we went.
knowing davey would need extra love and attention at naptime, i headed to grandpa & grandma's house, hoping someone could hold davey while i fed sam. uncle tom to the rescue! he had the day off from school so he entertained davey (who stopped crying/screaming shortly after we got there) while i fed sam. what would i do without my family nearby? davey just adores them all. THANK YOU, tom, for your help today! when we got home, i put him down for his nap… he was as happy as could be. apparently he played for awhile (he was in his crib) and i eventually moved him to his bed. where he played some more. and then fussed. and finally fell asleep like this: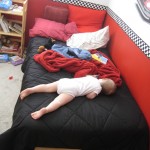 and here's a close-up of his bandaged ear: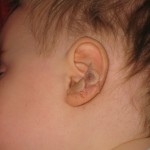 while i was at play group, my sister-in-law delivered a bouquet of beautiful flowers to my home (thanks, rach…. gotta get a good photo of them and share it here). carrilee gave me my gift at play group and my friend sara (who just had her birthday a week ago) dropped off a gift later in the afternoon. i received a large number of birthday greetings on my facebook page and several here on my blog. thanks to all of you! i also received a few phone calls…. and in the evening, as i was getting ready for my big date, i received my annual "birthday song" phone call from john & babi… every year they call and sing to me. for the last year or two, the song had to be left on the answering machine or on my voicemail. this year, however, i got to talk with them both. i miss them so much…. NYC is just so far away! i'm eager to see my brother sometime next month when he's in the seattle area for work.
but i digress…. dave and i went to The Keg where i was able to order anything i wanted from the menu (thanks for the tip, Brandi) and my "free meal" was more like a coupon for $22.95 off our bill. so i had my favorite – prime rib & king crab legs. mmmmmmm.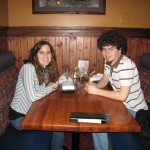 (i know i'm hunched over the table pretty oddly in this photo – i'll be cropping this one creatively before printing it)!
and after dinner, we tried to call some friends (Jimmy – dave's friend from logos – the guy i mentioned in our Christmas letter and his wife Hillary) to see if they wanted to join us for drinks, but Hillary was at a soccer tournament…. so we'll have to plan another childless evening to have drinks with them. i wasn't ready to go home yet so we found ourselves at trader joes. i'm a little embarrassed to admit that i've had a gift card to TJ's for almost a year…. yes. a year. [note: i LIKE trader joe's. you all know i'm no hippie. but when i took classes down in everett (oh, so long ago), i'd stop there and buy a few items i couldn't find anywhere else.] anyway…. we wandered around TJ's and finally found this beauty: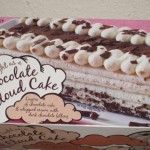 happy birthday cake to me! so elizabeth… thank you for my TJ's gift card… i'm sorry it took me almost a year to use it (you remember – you gave it to me when you were my "secret chick") but i used it on something yummy…. and for my birthday… so that makes it extra special, right?
thanks again, to dave's mom who watched both kids ALONE for us. (dad was at home doing some tile work). we got home a little after 9 p.m. and both kids were awake. but it was worth it. we had a good evening out (though we were both VERY tired).
so all in all, though it started on an interesting note, i did have another wonderful 27th birthday!