saturday
if i were a dinosaur, i'm sure i would be called a bargainasauraus. i can't help it. i cannot bypass a good sale. my mama taught me that it doesn't cost anything to try on clothing. or to look. so when i see a sale, watch out! most of my friends know this about me, too.
yesterday i read on facebook (thanks sarah!) that old navy was having their 50% off clearance prices sale. and then i got a message from another friend (thanks linda!) that our local store was, indeed, having the sale (sarah lives in michigan). so after naptime, i loaded up the kiddos and made an unplanned trip to bellingham. where i loaded one of those LARGE blue old navy shopping bags with clothing. mostly for sam. some for davey. a few shirts for dave. and three small items for me (2 nighties and a tank top). in all, i purchased 41 articles of clothing. and i spent $142.22. and then i learned that i was charged full price for one of sam's shirts ($10.50 instead of $1.74) so i went back this morning to get the difference back on my card and to take another look through the racks. for whatever reason, yesterday i was unable to convince myself to purchase anything for davey in a size 2T…. but that's what size he'll be wearing next winter. i guess i'm just having a hard time admitting that my sweet, little, baby boy will be wearing BIG BOY clothing next year! so, of course, i had to look through the girl stuff again and i found some additional items for sam that i just needed to purchase. (my philosophy on shopping: buy on sale now; compare to what you have at home; return what you don't need/want.) so here's a photo of everything – all of davey's items, sam's purchases, dave's shirts and my items: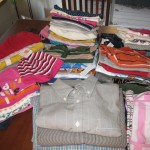 not a bad haul, eh? but get this. in total, pictured here are 59 items that retailed for $761.50 and i purchased for only $165.63. that's an average of $2.81 per item. and a total savings of $595.87. i know my mom is proud of me for this haul!
now i have a question about kids' clothing sizes. so davey is currently wearing 12-18 month clothing. we're getting ready to move him to his 18-24 month clothing. so that's what i bought this weekend – quite a bit of 18-24 month shirts and then i added some 2T shirts as well. so is 2T the size davey moves to AFTER he outgrows 18-24 months or is 18-24 month clothing and 2T synonymous? 'cuz up 'til now, clothing sizes are "up to" (aka: 3 months means 0-3 months; 12 months means 6-12 months). but does 2T mean (in most cases) when you turn 2 you start to wear size 2T? and when you turn 3 you start to wear 3T? 'cuz that's what i've been assuming and thinking thus far.
after friday's shopping adventure, we stopped by grandpa & grandma's house (for the first time all week…. davey had shared his germs with them and they took most of the week to recover). there's a possibility that in one week, the addition will be finished. but since the carpet isn't installed yet, davey got to ride his tricycle (a $1 garage sale find this past summer) in their new living room: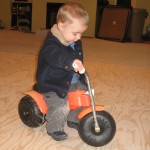 he was afraid of this little tricycle last summer. but last night he LOVED it!