tuesday:
amazing, isn't it, how you can have a good day where you feel completely "with it" and things go okay (i'm realistic enough not to "perfectly") and the next day is 100% the opposite. where you feel like a failure as a parent. you lose your patience. you get mad. frustrated. ticked off. grossed out. yesterday was a pretty good day. today – not so much.
but i'm not dwelling on that. instead, i'm going to dwell on the joyous reality that i did do a few things "right" today. i bought new sheets for davey today at walmart. and even though they're ultra cheap (quality), he LOVES them….. any guess what's on them?
cars. pixar's cars.
what else did i do right today? instead of letting the guy at walmart package my stuff into about 16 different plastic bags ('cuz you know they give you way more bags than you need…. just like at food pavillion, right julie?), i had him pack my purchases into these beauties:
you know me… i'm not an environmentalist. but i'm tired of plastic bags taking over my home. they have a use (especially in this home, so full of dirty diapers), but i'm no longer willing to be over-run by them. so i plan to use my five (5) tote bags from Treasury until i need some more plastic bags. i've actually been wanting some reusable bags for a few months now, but i've been holding out, waiting to find *cute ones that didn't cost a lot. i finally found them… these beauties are only $1!
and today i also picked up my custom vinyl orders at Treasury…. check 'em out:
they look pretty sharp, eh? i'm very, very pleased. thanks, heidi, for the great work!
and finally, in an attempt to continue to organize my home (it's a never-ending project in this home), i purchased some more canvas "bins" today for davey's toys in the living room and i bought myself an organizing "treat" today: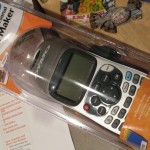 i'm eager to crack 'er open and put 'er to use! hopefully tomorrow (today's been a loooooooong day)! have you ever known anyone so excited to use a label maker? i know i'm weird. but it works for me. besides… if i actually LABEL things, then dave won't be able to claim he doesn't know where to find things in this home (since i'm always moving things around, in an attempt to be perfectly organized)!
here's to tomorrow… a new day and (hopefully) a much better one (even though i'll have to fold 4.5 loads of laundry b/c i'm on strike tonight)!