sunday….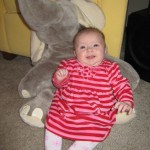 at age 3 months (yesterday), sam is in a growth spurt. i've been getting up 3-4 times a night for the past 4 nights or so. i hope this is over. i'm exhausted.
despite being frustrated with her current never-ending need to eat, i do love my sweet baby girl. here's a list describing sam at 3 months:
- loves music
- enjoying her mobile and play mat with musical lion (she likes to bat it)
- loves to be upright (being held or in the bjorn)
- wants to face out – no cuddling!
- sometimes will sleep for a 5-hour stretch (when not in a growth spurt)
- eating every 2.5-3 hours during this growth spurt
- still wearing 0-3 month clothing (though all her 3-6 month stuff is washed and ready to wear)
- won't keep shoes on her feet (kicks them off) – still has LONG, skinny feet
- still spits up regularly, despite getting a dose of zantac 2x daily
- snores
- loves to smile (we don't remember davey smiling as much as sam does)
- is easily startled
- adores her big brother
- poops at least once a day
- is starting to tolerate bathtime
- loves when i tickle her face with a chunk of my hair – she "coos" when i do it!
- will drink formula but hasn't liked any of the frozen pumped milk yet (haven't tried much)
- does best when i avoid caffeine, chocolate, orange juice, excessive salt (like chex mix) and carbonated beverages, dairy…….. unfortunately for both of us, i can't give it all up every day!
- holds her head up with very limited "bobbling"
- can sit in her bumbo seat for short periods of time (with something behind it – like the couch or armchair)
- LOVES the swing
oh yeah – doesn't sam look cute in her warm dress from Miss Elizabeth (owner of my favorite store – Treasury of Memories)? and those tights from the $1 spot at target are the perfect compliment…. they even look like little pink mary janes!
and my bargain hunting continues. i found a smokin' deal on craigslist this weekend…. davey got a new toy:
i found this bargain for only $5 (and it includes some tools and screws and stuff) AND i only had to travel to the "other side" of lynden to get it! and as you can see, davey loves it already!