saturday….
are you ready for a number of photos from the past week? my laptop came home on thursday night. they couldn't get it to repeat the intermittent "clicking" sound from the cd drive area, but they did replace my keypad… now i don't have to type with mega, extra force on the "j" and "y" keys…. sweet!
the rain has finally stopped. most of the flooded roads are finally reopened (though there is still some water over the road in places). here's a photo of the south end of fern drive (where dave's parents live):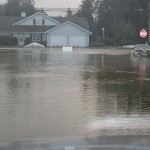 see that car on the right hand side of the photo? yeah. the water is just under his front bumper (which is not seen in this photo since the bumper is facing south). that's what i call some deep water. we didn't have any roads actually wash out, though. there are a number of places far south of here (south of seattle even, i believe), where the road actually washed away. pretty crazy. i'm just glad the rain finally stopped. they say we're getting more but then we should have lots of sun this week. good. i think we all need a good dose of sunshine around here!
as promised from one of my last posts with photos, here's a look at samantha's painted letters hanging in her room:
the second photo isn't the greatest, but i didn't want to use the flash and i wanted you to see a close-up of the letters. i LOVE the polka-dots. and even though there's no pink in her room (other than her clothing), i'm glad i added pink polka dots to her name. it just added that extra "something."
it's been an up and down week here at the dunkin household. dave's had a really hard time waking up to go to work "early" (aka: by 8 a.m.) so he's been going in late and therefore coming home later. that means my day with the kids is longer, especially though davey's whiney before-bedtime stage. ugh. but we did have lots of good moments, including play group on monday with a special (surprise) visitor… my dear friend kelsey!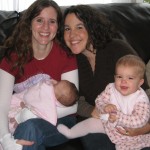 this is kelsey and her halle joy (age 11 months) plus samantha and i. kelsey's almost 3-year old marcus was also at play group, but he and davey were too busy playing to join our photo op. kels, i love you and miss you, dear friend. maybe, someday, we can sit down and have a great, in-depth conversation again… but i have a feeling it'll have to wait a few years since we get distracted by our children!
on tuesday, i somehow managed to get out of the house with both kids in good moods by 10 a.m. we drove to bellingham and hit costco and walmart and we were back in the pathfinder, ready to leave the walmart parking lot by 11:28 a.m. seriously. that means i did two major shopping excursions at costco and walmart (trust me, my lists were NOT short) in just an hour (b/c it took us about 30 minutes just to get into town). i think that's a new speed-shopping record, even for me! :)
we got to visit with grandpa & grandma a lot this week. their addition is nearing completion… at least, the end is in sight (finally)! this week they painted the walls. i helped confirm mom's color choice… it was a good one. and unfortunately, i don't have any photos of the in-progress room (yet) but i do have a darling photo of samantha with her grandpa: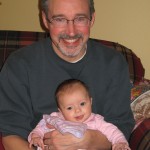 this little girl is amazing. she is a completely different child than she was 2 weeks ago. i think the zantac has made a huge difference in her life. i also think "packing on the pounds" has been quite helpful for her, also. she has so many happy and content moments each day. she no longer screams all day long. she loves her daddy. she loves to look around the room. she loves to be held – most of the time. but she also loves to just lie on a blanket and inspect the world around her. she adores her big brother and i can tell that she will be doing everything she can to imitate him as soon as she can. she gives the biggest, gummiest grins you can imagine… and they really do light up the room. she's still pretty gassy. and she still has moments of being very UNhappy (usually related to gas pain) but compared to how difficult her life seemed to her just weeks ago… yeah. she's now a totally different baby!
since i just went on a little spurt sharing about sam, here are a few more photos of our little darling:
dave got sam dressed yesterday morning for me… in this cute denim jumper! isn't she adorable? and though you can't really tell in this photo, she's lying on her personalized blanket. i'm so thankful for kristy, a friend from my childhood back east, who got this blanket for samantha (and one for davey, as well).
the downside of our week started on wednesday night but wasn't fully realized until late on thursday – when it was discovered that davey did, indeed, have a fever. and his snot and fever were accompanied by lots and lots of eye watering. so on top of cutting some new teeth (poor kid!), he also caught something. he had a HORRENDOUS night on thursday. i think i got up with him about 4 times during the night. but despite being extra whiney (now where does he get that?), he's still a sweet and good-natured little boy. and even when he's sick, he's so easy going (just ask my dear friend lisa mckee, who helped me out of a HUGE jam yesterday morning by watching him for a few hours while sam and i ran to an appointment in bellingham – thanks again, lisa… not sure WHAT i would've done without you!). he's talking up a storm these days and it seems he adds new words to his vocabulary daily – i'm going to have to get a list going pretty soon. he did parrot a few of his words to nana on the phone (was that this week or last week? last week, i think) and she was impressed.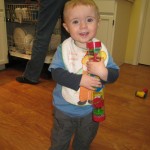 i think he looks like such a BIG BOY in this photo. check out the way he's standing. and looking right at the camera and saying "cheese." where, oh where, did my "baby davey" go?!
before we knew davey was sick, we had a play date scheduled for thursday morning and we kept it, since i didn't know how bad davey was feeling. carrilee came over with henry and jorja and the boys had fun running around, making messes and playing with davey's toys. they also enjoyed a small break to drink their milk together: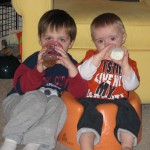 sam and jorja were happy to each sleep through a portion of the play date. and then eat. and then they took turns sitting in samantha's bumbo seat (a christmas present from uncle john & aunt babi):
as you can see in the photo of the boys, davey also likes to sit in this seat. i'm debating whether i'll need to get one for him (used from craigslist) once sam is able to sit in hers for longer periods of time.
today is (uncle) tom's birthday (dave's brother) and rumor has it that we'll all be dining at pizza hut in bellingham to celebrate. dave and i both have a few things to do before the festivities this evening, so i'd better get a move-on. i hope you've enjoyed this rendition of "playing catch up" with photos and stories. hopefully we'll get back into the swing of almost-daily posts and photos this coming week!
so a huge HAPPY 20th BIRTHDAY wish to UNCLE TOM: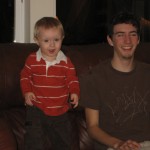 you are, indeed, one of davey's favorite people!