monday
today is my birthday. i'm turning 27 again. i'm not telling you how many years in a row i've celebrated my 27th birthday. so if you know my age…. you know a secret about me. i guess some day i'll have to get older than 27. but for now, it's a nice age. and i'll stick with it. k?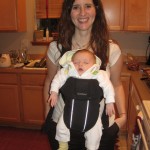 this photo is from yesterday. sam slept in the bjorn while i walked around the house and sat and watched tv. she slept for quite awhile. i was afraid to take her out of it b/c i was afraid that would wake her up! on saturday night, she pulled two longer stretches for me. the first was 7 hours between feedings. the second was 4 hours. the night before davey turned 3 months old was the first night he slept for 8 hours. sam will be 3 months old this week, so we'll see if she affords me the same gift!
today's celebration will include a date with my hubby! my wonderful in-laws offered to come over and watch our children tonight so dave and i can go out to dinner. we're going to The Keg, one of my FAVORITE restaurants. it's spendy. but we have my "free birthday dinner" coupon, so that helps a lot. maybe dave will even order a meal with the crab so i can eat that with my prime rib (my free meal is a set menu choice and it does not include my favorite – the crab).
dave finished and ordered my present – the latest installment of our "year in review" books (i've received one for Christmas every year until this past year – when i'm getting it for my birthday). i won't get it for another week or so, but that's okay. i'm eager to see it! and if i figure out what else i want, he'll get me that, too. i'm leaning towards a pub table and two stools to use as my craft desk…. but i'm trying to find one i like at a decent price. so far, nothing.
and now it's time to head to play group. have i mentioned lately how much i love our play group? have i mentioned how much i love the moms – my friends? if not, consider this my plug. i love you ladies!