tuesday
so sam turned two months old the day before Christmas (so 6 days ago). as a reminder, earlier this month (on the 9th) she weighed 9 pounds 1 ounce. at his 2-month check up, davey weighed 9 pounds 1 ounce and was 21.5 inches long.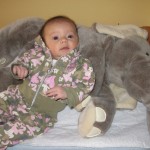 today, this little girl weighed in at 10 pounds 10 ounces and is 22.5 inches long. she's in the 50th percentile for height, weight and head circumference (she was originally in the 5th percentile for weight).
right now, she's sleeping. and i hope she sleeps for most of the day. those shots really did her in. i'm hoping davey takes a long nap, too. he's been going to bed late and waking up (really) early lately. ugh. at least it's not an ear infection (i had dr. dickson check today). but that means he's teething. oi! send me good vibes, dear friends… i'm exhausted today b/c i was up with sam three times last night (sam is still eating every 2.5 to 3 hours all day and all night) and i was up with davey once.